The Earth Simulator Center (ESC; Prof. Tetsuya Sato, Director-General) of the Japan Agency for Marine-Earth Science and Technology (JAMSTEC; Mr. Yasuhiro Kato, President) will hold "the Sixth Earth Simulator Center Symposium"at the Center for the Advancement of Working Women (Minato-ku, Tokyo) on Wednesday, October 31. Its theme is "Gentle Relationship between Human Being and Earth -Taking the Lead in Making Rapid Progress of Simulation Science".
At the ESC, we are conducting various studies such as prediction of typhoon direction by reproducing fine structures of typhoon, simulation of heat island phenomenon which is useful for city design, and simulation of internal earth dynamics that is impossible for us to see. Furthermore, we are developing simulation algorithm to attain more realistic reproduction. For an example, the small scale computation such as the motion of individual water droplets that form clouds or rain and the large scale computation such as an entire cloud that provides rain in various locations are performed at the same time. We are promoting research on such simulation science to be applied in various fields.
What can simulation science offer to the future of human being? We are going to introduce research achievements from familiar phenomenon to the global scale phenomenon, acquired through using the Earth Simulator, the supercomputer with the world top-ranking performance, in an easy-to-understand way.
Admission free and registration are not necessary.. Please join us.
Description
Date and time:
Wednesday, October 31, 2007
10:30-17:40 (Doors open at 10:00)
Venue:
The Center for the Advancement of Working Women
5-35-3 Shiba, Minato-ku, Tokyo (Refer to Access Map)
Host:
The Japan Agency for Marine-Earth Science and Technology
Sponsor:
The Ministry of Education, Culture, Sports, Science and Technology
Program
Please see Appendix (Japanese)
Access Map (Japanese)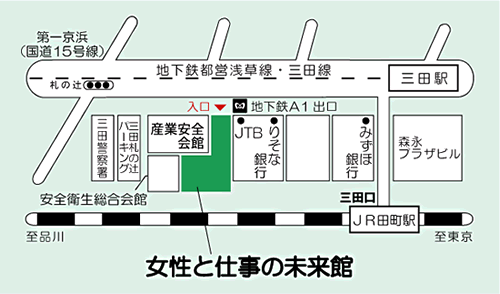 1-min. walk from the Exit A1 at Mita Station, Toei Asakusa Line or Toei Mita Line 3-min. walk from JR Tamachi Station
http://www.miraikan.go.jp/english/index.html