July 2,2008
Japan Agency for Marine-Earth Science and Technology
JAMSTEC 5th Annual Public Symposium in the series of
"Global Environment"
"Frontier of Global Environment Study"
Global Observation and Prediction Models
Open New Frontier of Science
The Institute of Observational Research for Global Change (IORGC) and the Frontier Research Center for Global Change (FRCGC) of the Japan Agency for Marine-Earth Science and Technology (JAMSTEC: Yasuhiro Kato, President) host the "Global Environment" series symposium annually.
The 5th symposium in the series will take place as follows.
Since global warming is now the most crucial issue for all humanity, the scientific front will be introduced from a viewpoint of that how far the global observation and prediction models will be able to open new frontiers for elucidation of global environmental changes.
Please note that the symposium will be delivered only in JAPANESE and the interpretation will NOT be available.
Description
1.Date and time:
August 4, 2007 (Mon.) 13:00~17:30 (Gate open at 12:30)
2.Venue:
U Thant International Conference Hall, United Nations University
(53-70, Jingumae, 5-chome, Shibuya-ku, Tokyo)
Refer to MAP (Japanese)
3. Admission:
Free (Pre-registration required)
4. Application:
Please apply through our web site below or contact our secretariat
Web site: http://www.jamstec.go.jp/frcgc/sympo/2008/

Secretariat:
Ms. Imamura or Ms. Tsujimura
Research Promotion Office, FRCGC
TEL: 046-778-5700 FAX: 046-778-5497
E-mail: www-frcgc@jamstec.go.jp

5.Host:
Japan Agency for Marine-Earth Science and Technology
(IORGC/ FRCGC/ Public Relations Division, Marine-Earth Data and Information Department (MEDID)
6.Sponsor:
The Ministry of Education, Culture, Science and Technology (MEXT)
7. Overall host:
Mr. Tetsuya Muroyama, the executive commentator at NHK
8. Program:
Refer to Appendix (Japanese)
MAP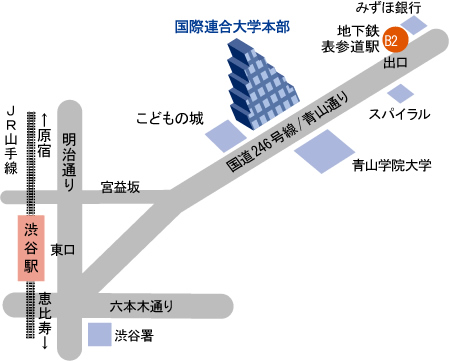 U Thant International Conference Hall, United Nations University
5 minutes walk from JR Shibuya Station
8 minutes walk from Exit B2 of Tokyo Metro Omote-sando Station