Frontier Research Center for Global Change (FRCGC) of Japan Agency for Marine-Earth Science and Technology (JAMSTEC: Yasuhiro Kato, President) and the Ministry of the Environment will co-host the public symposium as follows.
In Japan, concentration of photochemical oxidant is gradually increasing and the area of photochemical oxidant warning is spreading. As for the cause, in addition to emissions of precursor air pollutants in Japan, impact of trans-boundary air pollution from Asian continent is now discussed. This symposium aims to provide scientific information on ozone pollution in East Asia and its impact to Japan, and an opportunity to discuss the importance of taking measures against the problem.
This symposium is a part of the project under the Global Environment Research Fund of the Ministry of the Environment titled "Study of Long-range Transboundary Transport of Ozone and Aerosols in East Asia" (The research representative; Hajime Akimoto, Program Director of the FRCGC, JAMSTEC).
*Please note that the symposium will be delivered only in JAPANESE and the interpretation will NOT be available.
Description
1. Date and time:
13:30~17:00 Tuesday, November 25, 2008
(Doors open at 13:00)
2. Venue:
U Thant International Conference Hall, United Nations University
(53-70, Jingumae, 5-chome, Shibuya-ku, Tokyo)
Refer to MAP (Japanese)
3. Program:
Refer to Appendix (Japanese)
4. Admission:
Free (Pre-registration required)
5. Registration:
Please apply through our web site below or contact our secretariat
http://www.jamstec.go.jp/frcgc/sympo/2008border/index.html
Secretariat: Ms. Shiomi
Research Promotion Office, FRCGC
TEL: 046-778-5723 FAX: 046-778-5496
E-mail: taiki-sympo@jamstec.go.jp
*Please note that seats are limited to 300 people.
6. Host:
FRCGC,Japan Agency for Marine-Earth Science and Technology
Ministry of the Environment
Sponsor:
National Institute for Environmental Studies
MAP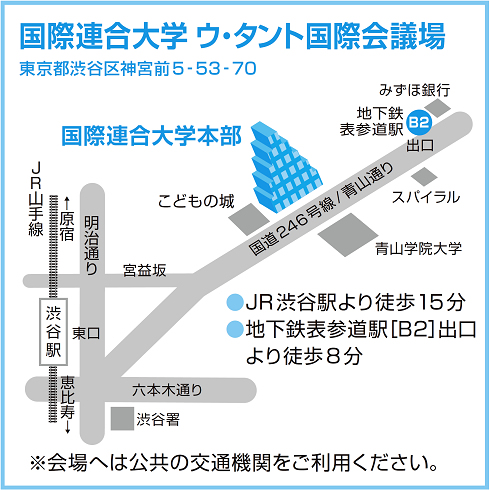 Appendix