July 2, 2009
Japan Agency for Marine-Earth Science and Technology
JAMSTEC 6th Annual Public Symposium in the Series of
"Global Environment"
"Ocean Acidification – Impact on Ecosystems -"
The Research Institute for Global Change (RIGC) of the Japan Agency for Marine-Earth Science and Technology (JAMSTEC: Yasuhiro Kato, President) hosts the "Global Environment" series symposium annually.
The 6th symposium in the series will take place as follows.
The theme of this year's symposium is "ocean acidification." Carbon dioxide emitted from fossil fuel burning is not only causing global warming but also altering chemical properties of sea water as it enters the ocean. Focusing on this issue and using latest research findings, scientists will introduce what "ocean acidification" means, and what and how extent it has affected marine ecosystems, as well as sharing views with the audience on its potential impact on our daily lives.
Details
1.Date and time:
August 6, 2009 (Thur.) 13:00~17:30 (Gate open at 12:30)
2.Venue:
U Thant International Conference Hall, United Nations University (53-70, Jingumae, 5-chome, Shibuya-ku, Tokyo)
Refer to MAP
3. Admission:
Free (Pre-registration required)
4. Application:
Please apply through our web site below or contact our secretariat Web site:
http://www.jamstec.go.jp/rigc/j/sympo/2009/
Secretariat: Ms. Imamura or Ms. Kikuchi Research Support Division II, JAMSTEC
TEL: 046-778-5700
FAX: 046-778-5497
E-mail:rigc-sympo2009@jamstec.go.jp
5.Host:
Japan Agency for Marine-Earth Science and Technology
6.Sponsor:
The Ministry of Education, Culture, Science and Technology (MEXT)
7. Overall host:
Mr. Tetsuya Muroyama, Executive Commentator at NHK (Japan Broadcasting Cooperation)
8. Program:
Refer to Appendix (Japanese)
* Please note that the symposium will be delivered only in JAPANESE and the interpretation will NOT be available.
Map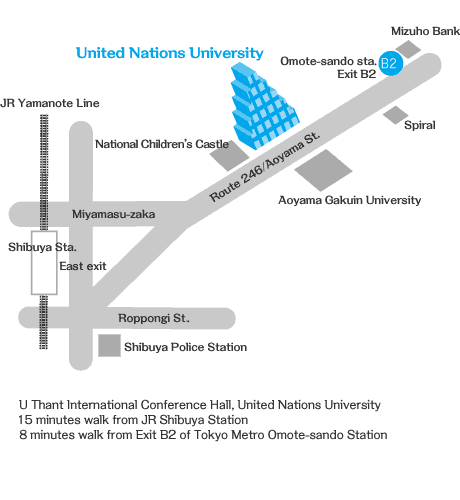 Appendix