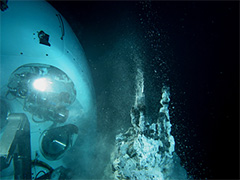 The deep submergence vehicle SHINKAI 6500 is scheduled to dive 5,000-meter deep in the ocean for a purely scientific research purpose. The scientific exploration will be fully broadcast live on the Internet. Let's go to the exciting and thrilling cutting-edge research on an unknown world together with us.

The program will be broadcast live for about 12 hours on the Noco Nico Live. No Nico Nico account is necessary. Everyone can watch it.

Date and time
11:30 am to 11:00 pm UTC on Saturday, June 22, 2013 (8:30 pm to 8:00 am JST)
* You can view the program without registering an account on Nico Nico Live.
* The date and/or time are subject to change in case of bad sea conditions.
* Please note that poor communications connectivity may interrupt the live broadcast.
How do humans reach and explore the deep sea and what do they see there?
This program is the world's first full live broadcast of a deep-sea exploration with a manned submergence vehicle for a purely scientific purpose. You can experience an unknown deep-sea world, and enjoy the dive and exploration with the submergence vehicle.
The deep submergence vehicle SHINKAI 6500 is scheduled to dive the 5,000-meter deep ocean. This live program is jointly presented by JAMSTEC and Nico Nico Live, and will fully cover the launch and the deep-sea exploration of SHINKAI 6500. In this live broadcast, all of us can share such an exciting experience of scientific deep-sea exploration. This is the world's first challenge.
Will the live broadcasting go well? … Not sure. If not, … sorry.
The program will feature the launch and recovery of SHINKAI 6500, the operation in its cockpit, footage of the deep sea taken during the dive, deep-sea research activities, and the operation in the control room on the support vessel YOKOSUKA.
A deep-sea hydrothermal vent area is located at the Cayman Rise in the Caribbean Sea at a depth of 5,000 meters, which is said to be the deepest hydrothermal area in the world. The temperature of the hot water spewing from the seafloor was found to be over 400 degrees Celsius. Scientists would like to find out together with you if organisms can survive in such an extreme hydrothermal environment. The expedition team is trying to figure out the limit of life and studying symbiosis with bacteria and other ecological characteristics in extreme environments.
For more information about the QUELLE2013 – an around-the-world voyage by the SHINKAI 6500 and science team, please visit the JAMSTEC website.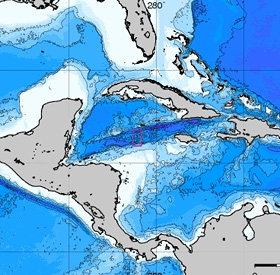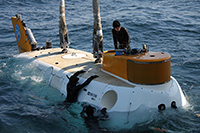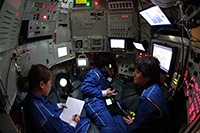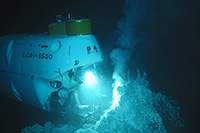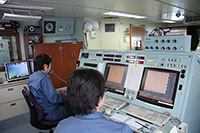 Crew members of SHINKAI 6500 LIVE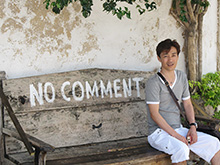 Ken Takai
Researcher; Director, Extremobiosphere Research Program, JAMSTEC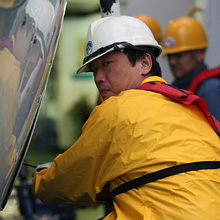 Kazuki Iijima
Pilot of SHINKAI 6500; Operation Manager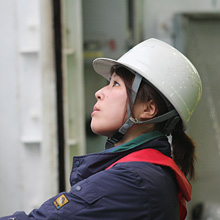 Hitomi Ikeda
Copilot of SHINKAI 6500; Submersible Staff
Crew members of Support Vessel YOKOSUKA LIVE
Toshiaki Sakurai, SHINKAI 6500 Operation Team Manager
Tadashi Yoshizawa, Public Relations Division, JAMSTEC … and others
Science Party
Ken Takai (Chief Scientist, JAMSTEC)
Shinsuke Kawaguchi (JAMSTEC)
Junichi Miyazaki (JAMSTEC)
Norio Miyamoto (JAMSTEC)
Katsunori Yanagawa (JAMSTEC)
Takuya Yahagi (University of Tokyo)
Hiromi Watanabe (JAMSTEC)
Danielle Morgan Smith (East Carolina University)
Diva Joan Amon (University of Southampton)
Jonathan Timothy Peter Copley (University of Southampton)
Priya Narasingarao (Scripps Institute of Oceanography)
Verity Ellen Nye (University of Southampton)
Cast
Takeshi Naganuma, host of the program, associate professor of Hiroshima University
Mizuho Mashiko, hostess of the program, newscaster
Tsuyoshi Yoshiume, former Operation Manager of SHINKAI 6500
Junichiro Kawaguchi, JAXA Senior Fellow, Asteroid Explorer HAYABUSA Project Manager
Kaeruko Akeno, novelist… and others
Send your message to crew members!
Please add the hashtags #6k_live and #nicohou to your Twitter message.