Deep Sea Research Vessel KAIREI retired on February 2022.
Overview
The deep sea research vessel KAIREI conducts surveys of seabeds in trench areas by acting as the support ship for the deep sea ROV, KAIKO 7000, which can conduct surveys up to a maximum depth of 7,000 m.
R/V KAIREI also conducts surveys of the structure of deep sub-bottoms with complicated geographical shapes in subduction zones using its on-board multi-channel reflection survey system. Equipped with a variety of functions for studying surface layer topographies, strata topographies, and geologic structures of the deep sea bottom, the vessel is also able to conduct comprehensive surveys and observations of the deep sea and trench areas.
Characteristics
Multi-Channel Reflection Method Survey System
This system uses air guns as a source for projecting sonic waves and receives these waves through a streamer cable after they have been reflected by layers beneath the seafloor. By analyzing the data obtained, the structure of the Earth's crust can be determined in detail up to a dozen kilometers below the seafloor.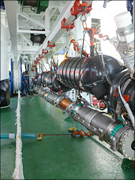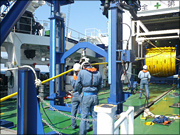 Principal specifications
| | |
| --- | --- |
| Length | 106.0 m |
| Beam | 16.0 m |
| Depth | 7.3 m |
| Draft | 4.7 m |
| Gross tonnage | 4,517 tons |
| Cruising speed | 12 knots |
| Range | Approx. 9,600 nautical miles |
| Accommodation | 60 (38 crew, 22 research personnel) |
| Main propulsion system | Diesel engines: 2,206kW × 2 |
| Main propulsion method | Controllable pitch propeller × 2 |