February 29, 2012
JAMSTEC
New JAMSTEC AUV Named YUMEIRUKA
YUMEIRUKA (pronounced "yume-iruka"), a coined word meaning dream and dolphin, was chosen to be the name of an autonomous underwater vehicle (AUV) newly developed and constructed by JAMSTEC.
Earlier JAMSTEC invited the public to submit names of the vehicle (see the press release on September 14, 2011).
The name was selected, as it reminds us of a dolphin swimming freely in the ocean and represents dreams of researchers who pave the way to a new era of marine research and exploration in Japan.
Details
1.

Name of the new AUV : "YUMEIRUKA"

2.

Details of the new AUV (Refer to Appendix for specification)
The construction of the vehicle's body is scheduled to be completed at the end of March 2012.

3.

The author of the name
Hayate Iimori, a high-school student in Tokyo

4.

Naming ceremony
The naming ceremony will be held in April with the attendance of the name's author.
Appendix
New Autonomous Underwater Vehicle YUMEIRUKA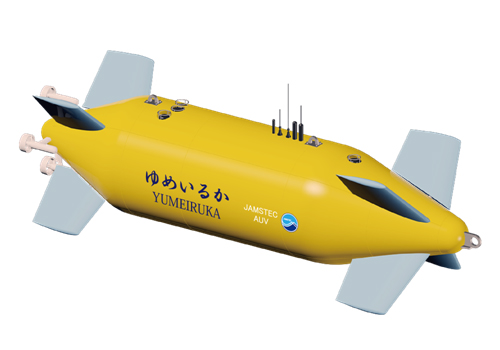 Image of the outward appearance of the new AUV
(The actual colors may differ from this image)
Specifications
Maximum depth
capability
3,000 meters
Speed
Cruising speed: 2 to 3 knots (about the average human walking speed)
Length
5 meters (about the size of a beluga)
Operation
Autonomous or acoustic control (wireless, remotely operated from the support vessel)
Science operations

-

Acoustic profiling of the seafloor topography and sub-bottom structure. (e.g. multi-beam echo sounder profiling)

-

Navigation capability (Fore and aft X-ladders allow for a swift change in direction, enabling the vehicle to cruise over steep slopes.)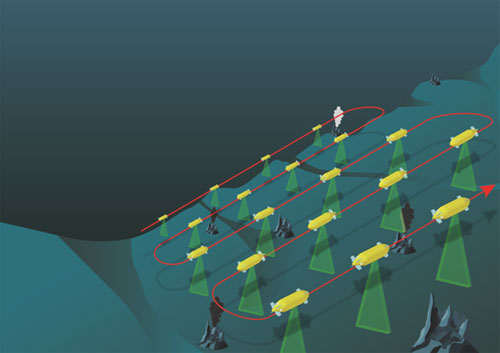 Image of the survey by the new AUV
-

The AUV is preprogrammed to perform surveys along the seafloor. It is able to determine its own position to cruise safely over rough surfaces of the seafloor.

-

Fore and aft X-ladders enable easy changes in direction and keep the AUV on course regardless of the seafloor topography and currents.

-

Acoustic signals transmitted by the AUV and reflected from the seafloor provide information on the seafloor topography and sub-bottom structure. The collected data are be used for detailed surveys using other seafloor explorers.