Press Releases
IODP Scientific Expedition 355 Begins

~Deep sea drilling in the Arabian Sea: Constraining tectonic-monsoon interactions in South Asia~
On April 1st 2015, the IODP (International Ocean Discovery Program)*1 Scientific Expedition 355 begins with the JOIDES Resolution*2. In this expedition, three sites in the eastern Arabian Sea will be drilled to collect and analyze core samples, aiming to understand the interaction between the Himalayas and Tibetan plateau uplift, and the development and evolution of the Indian summer monsoon. A total of 31 participants include two scientists from Japan and those from the U.S., Europe, China, South Korea, Australia, India and Brazil will go on board.
*1: The International Ocean Discovery Program (IODP) is a multinational cooperative project started from October 2013. A total of 26 nations are currently participating: Japan, the U.S., 18 European countries, China, South Korea, Australia, New Zealand and Brazil.
The scientific drilling vessels D/V Chikyu operated by Japan and the JOIDES Resolution by the U.S, and the option to charter mission-specific platforms by Europe are utilized for expeditions. The research aims to shed light on global environmental changes, the earth's mantle and crust dynamics and tectonics, and the biosphere beneath the seafloor.
*2: The JOIDES Resolution is the U.S. drilling vessel operated for IODP. Compared to the deep-sea scientific vessel Chikyu by JAMSTEC, it is used more often for drilling in shallow waters.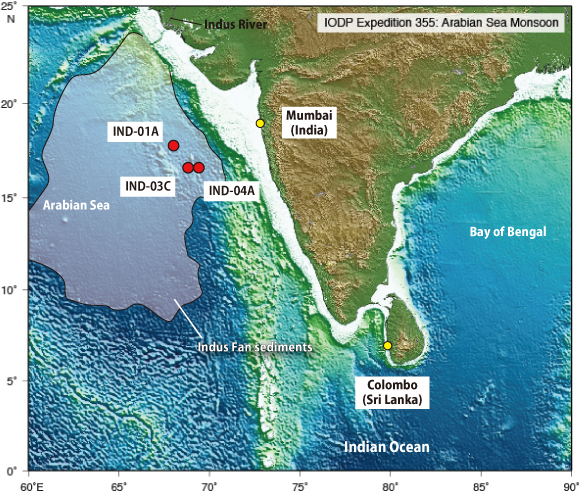 Figure 1: Drilling sites planned at IODP Expedition 355 (shown by red circles).
Table 1: Overview of Drilling Sites (in order of drilling)
Drilling
sites
Water
depth
Drilling
depth
# of working days
for drilling
IND-03C
3,630m
1,570m
29
IND-04A
3,622m
950m
14
IND-01A
3,461m
690m
9