The first meeting of JAMSTEC Advisory Board was held
on 18th-20th March, 2013
The first meeting of JAMSTEC Advisory Board was held at Yokosuka Headquarters and Yokohama Institute for Earth Sciences of JAMSTEC from 18th to 20th March 2013. It was the first time for JAMSTEC to organize an international advisory board on the whole activities of JAMSTEC.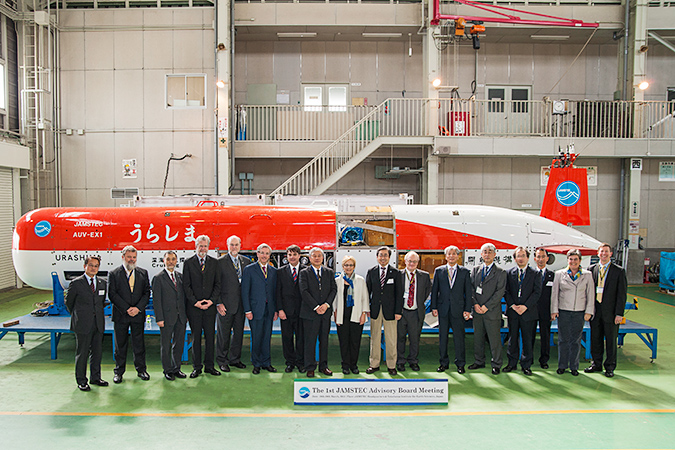 The board was chaired by Dr. Susan Avery, the president of Woods Hole Oceanographic Institution (WHOI), and consisted of top leaders of major oceanographic institutions and scientists from Australia, France, Germany, Japan, the Republic of Korea, the United Kingdom, and the United States.
After being briefed on an overview of JAMSTEC and its major research and technological development activities, and observing facilities and equipments including the Earth Simulator and submersibles, the board members very actively discussed future direction on JAMSTEC's research and technological development, its management, and partnership with universities and overseas institutions.
Participants of the 1st meeting of JAMSTEC Advisory Board
JAMSTEC Advisory Board Members
Australia

Dr. Bruce Mapstone, Chief of Commonwealth Scientific and Industrial Research Organisation (CSIRO) Marine and Atmospheric Research

France

Mr. Jean-Yves Perrot, President of l' Institut Français de Recherche pour l' Exploitation de la Mer (IFREMER)

Germany

Prof. Peter M. Herzig, Director of GEOMAR - Helmholtz Centre for Ocean Research Kiel

Japan

Dr. Hiroshi Niino, Director of Atmosphere and Ocean Research Institute (AORI), the University of Tokyo
Dr. Mitsuo Uematsu, Director and Professor of Center for International Collaboration, Atmosphere and Ocean Research Institute (AORI), the University of Tokyo
Dr. Hideyuki Suzuki, Professor of Department of Ocean Technology, Policy, and Environment, Graduate School of Frontier Sciences, the University of Tokyo

Republic of Korea

Dr. Jung-Keuk Kang, President of Korea Institute of Ocean Science and Technology (KIOST)

United Kingdom

Prof. Anthony Edward Hill, Director of National Oceanography Centre, Southampton (NOCS)

United States

Dr. Robert S. Detrick, Assistant Administrator of Oceanic and Atmospheric Research, the National Oceanic and Atmospheric Administration (NOAA)
Prof. Catherine G. Constable, Director of Scripps Institution of Oceanography (SIO), UC San Diego
Dr. Brian Taylor, Dean of the School of Ocean and Earth Science and Technology (SOEST), University of Hawai'i at Manoa
Dr. Susan K. Avery, President and Director of Woods Hole Oceanographic Institution (WHOI)
Representatives of Science Advisory Committees (SACs)
SAC for Research Institute for Global Change (RIGC):

Dr. Christopher Lee Sabine, Laboratory Director of Pacific Marine Environmental Laboratory (PMEL), Oceanic and Atmospheric Research, the National Oceanic and Atmospheric Administration (NOAA)

SAC for Institute for Research on Earth Evolution (IFREE):

Dr. Hisashi Utada, Professor of Earthquake Research Institute, University of Tokyo

SAC for Institute of Biogeosciences (BioGeos):

Dr. Naohiro Yoshida, Professor of Department of Environmental Chemistry and Engineering, Earth-Life Science Institute, Tokyo Institute of Technology