JAMSTEC News
New research vessel named KAIMEI

The Naming and Launching Ceremony takes place.
On June 7, 2015, the naming and launching ceremony of JAMSTEC's new research vessel took place at the Shimonoseki Shipyard owned by Mitsubishi Heavy Industries, Ltd. The ceremony was attended by Her Imperial Highness Princess Kako of Akishino.
In the ceremony, the name of the vessel "KAIMEI" was announced by Mr. Motoyuki Fujii, State Minister of Education, Culture, Sports, Science and Technology, on behalf of Minister Mr. Hakubun Shimomura. Then, Her Imperial Highness Princess Kako cut the rope to launch the vessel.
In response to public interest in marine research and development, JAMSTEC had invited the public to help name its research vessel. The name "KAIMEI", which can mean clarification and elucidation in Japanese, was selected from a large number of suggestions because it conveys an impression of "opening a new era in marine research and development" and also reflects its mission to unravel mysteries of the deep seafloor through deep sea exploration.
R/V KAIMEI is expected to promote scientific research in a wide area, including scientific surveys of marine resources in waters around Japan. The vessel will feature crustal structure survey using a three-dimensional seismic imaging system, sediment/core sampling using drilling equipment installed on the seabed, simultaneous use of multiple autonomous underwater vehicles, and detailed survey using acoustic devices.
Mr. Makito Yasui, a third-grade student from Kyoto, attended the ceremony on behalf of those who suggested the name "KAIMEI." "I am very happy that the name I suggested was selected." he said. "I really hope the ship will unravel a lot of mysteries in the future."
After final outfitting and sea trials, the research vessel is scheduled to be delivered at the end of fiscal year 2015, followed by crew training before it starts marine research and exploration.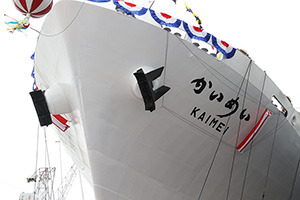 The letters of the vessel's Japanese name written by Minister Shimomura were drawn on the surface of its body.
Research Vessel KAIMEI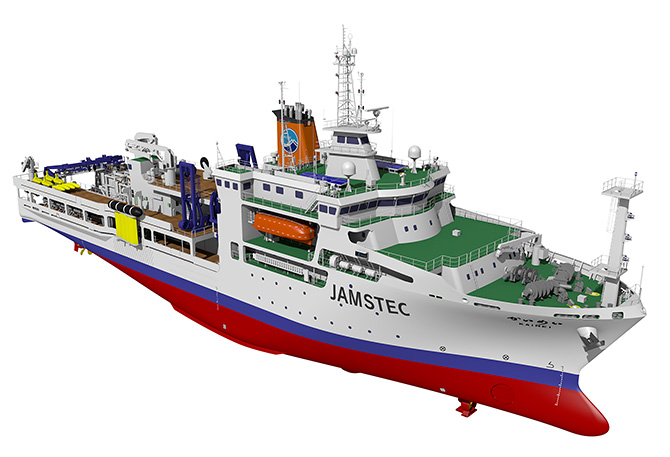 Principal particulars
| | |
| --- | --- |
| Length overall | Approx. 100 meters |
| Beam | 19.0 meters |
| Gross tonnage | Approx. 5,800 tons |
| Sea speed | 12.0 knots |
| Cruising distance | 9,000 nautical miles |
| Accommodation | 65 (27 crew members, 38 researchers) |