JAMSTEC News
The second JAMSTEC Advisory Board met on 6th -7th March 2018
March 30, 2018
JAMSTEC Advisory Board (JAB) was held on 6th - 7th March 2018 at Yokosuka Headquarters and Yokohama Institute for Earth Sciences. It was the second meeting since the first meeting in March, 2013.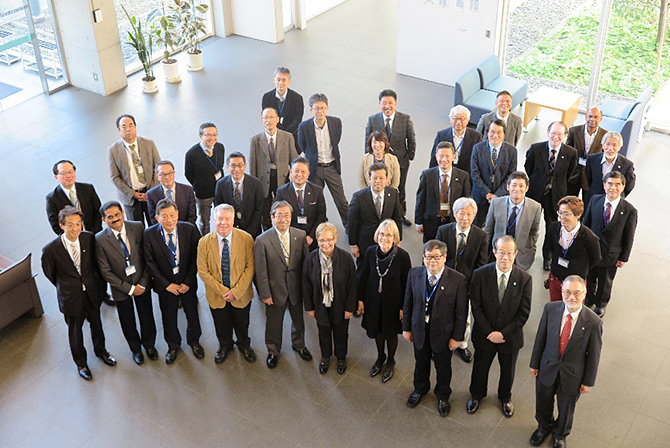 The JAB was comprised of top leaders and prominent scientists of major oceanographic institutions, and was chaired by Dr. Susan K. Avery, President Emerita of Woods Hole Oceanographic Institution (WHOI), USA, who was similarly the chair of the 1st meeting.
After being briefed on an overview of JAMSTEC and results and activity update of its major research and technological development, the JAB members actively discussed current situation and future direction of JAMSTEC.
In addition, facility and laboratory tours and poster sessions were organized for JAB members with participation of mid-level and junior scientists and engineers. These scientists and engineers were given the opportunity to communicate and exchange their ideas with JAB members during the tours and poster sessions.
JAB presented recommendations on several themes, including ways of internationalizing JAMSTEC and development of human resources. Their recommendations will be considered in the context of JAMSTEC's future management strategy.
JAMSTEC Advisory Board Members
Dr. Susan K. Avery

President Emerita, Woods Hole Oceanographic Institution (WHOI), USA

Dr. Mike Coffin

Professor and Executive Director Emeritus, Institute for Marine and Antarctic Studies (IMAS), University of Tasmania, Australia

Dr. Anthony Edward Hill

Executive Director, National Oceanography Centre (NOC), UK(absent)

Dr. Kimihiko Hirao

Director, RIKEN Advanced Institute for Computational Science (AICS), Japan

Dr. Margaret Leinen

Director, Scripps Institution of Oceanography (SIO), University of California, San Diego, USA.

Dr. Yutaka Michida

Vice Director, Atmosphere and Ocean Research Institute (AORI), University of Tokyo, Japan

Dr. Satheesh C. Shenoi

Director, Indian National Centre for Ocean Information Services (INCOIS), India

Dr. Sun Song

Principal Scientist (Former director), Institute of Oceanology, Chinese Academy of Science (IOCAS), China