JAMSTEC News
The President of the Republic of Palau visiting JAMSTEC
On December 28, 2019, President of the Republic of Palau, Tommy Remengesau Jr., and his delegation, visited the Yokosuka Headquarters of Japan Agency for Marine-Earth Science and Technology (JAMSTEC).
President Remengesau Jr. attended a briefing at our organization, where the past 20 years of our research activities in the Republic of Palau, such as climate and meteorological observation and earthquake monitoring, in addition to the marine plastics research were explained. President placed high expectation on JAMSTEC in playing a leading role in tackling the current global challenges surrounding the ocean with its capacities in implementing marine and earth science and technology.
The visit this time by President Remengesau Jr. was made as another opportunity after the international symposium to celebrate the 25th anniversary of the independence of Palau and the establishment of diplomatic ties between Japan and Palau(http://www.jamstec.go.jp/e/jamstec_news/20191225/).
In addition to the Japan-Palau Goodwill Yacht Race, with its scientific investigation into marine microplastics (http://www.jamstec.go.jp/spfo/e/), being held also in celebration of the above anniversaries, it is currently planned that in next August, the oceanographic research vessel MIRAI from JAMSTEC will make a port call in Palau and our researchers will conduct educational programs for young people. Through these programs, we aim to contribute to increasing knowledge on the global problems on the ocean.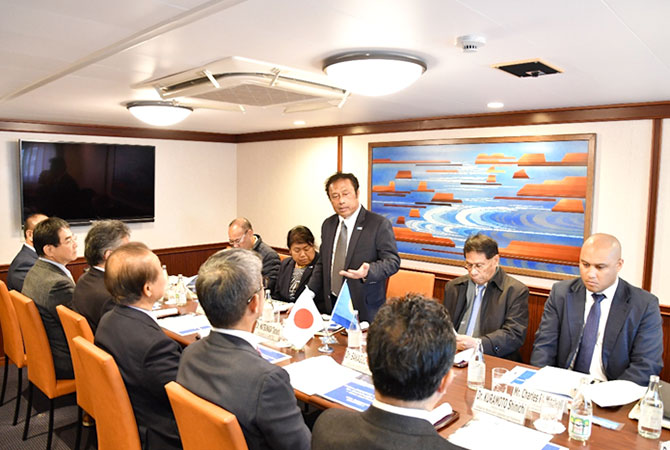 President Remengesau Jr. delivering remarks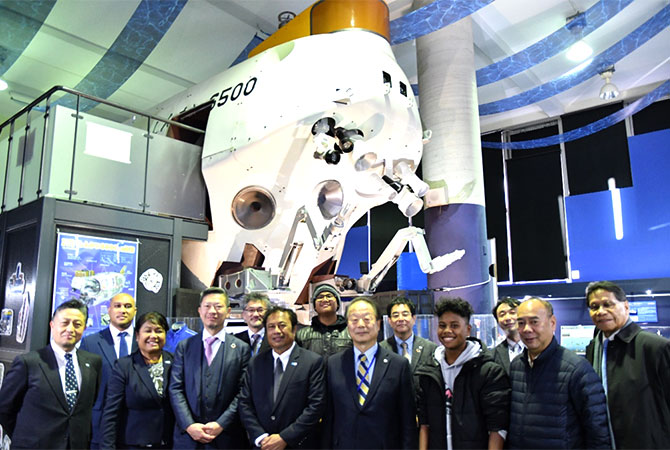 Group photo in front of the model of our manned submersible Shinkai 6500