September 25, 2015 Miyoshi Memorial Auditorium, Yokohama campus
Agenda
13:30 -- 14:00
Administrative issues(Director Rikie Suzuki)
Interdisciplinary seminars
14:00 -- 15:00
(40+20min)
Observational study of artificial radionuclides emitted from Fukushima Daiichi nuclear power plant accident by using time-series sediment trap (Dr. Makio Honda)
15:00 -- 15:15
break
15:15 -- 16:15
(40+20min)
Atmospheric constraints on greenhouse gases fluxes (Dr. Prabir K. Patra)
Abstracts
Dr. Makio Honda
"Observational study of artificial radionuclides emitted from Fukushima Daiichi nuclear power plant accident by using time-series sediment trap"
Settling particle collector, time-series sediment trap, has played an important role in the study of spatio-temporal variability in biogeochemical particles' cycle in the ocean. This report reviews the observational study of behavior (such as dispersion, distribution and existence form) of particulate artificial radionuclides in the ocean emitted from Tokyo Electric Power Corporation Fukushima Daiichi NPP severe accident by using time-series sediment trap deployed in the western North Pacific.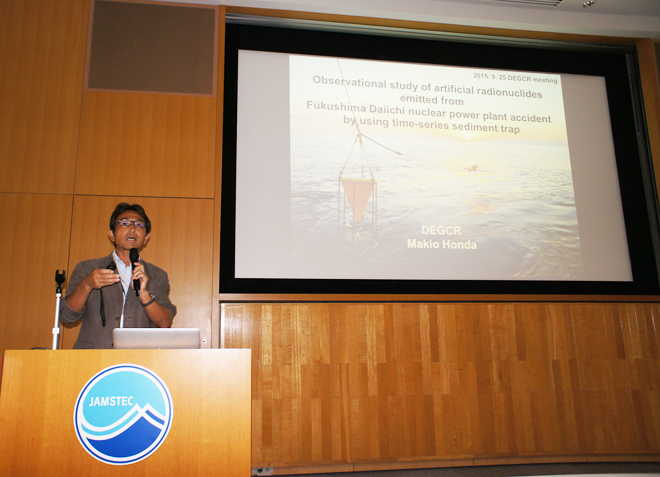 Dr. Makio Honda
Dr. Prabir K. Patra
"Atmospheric constraints on greenhouse gases fluxes"
Estimations of global and regional fluxes of greenhouse gases (GHGs) are being done over the past three decades. But scientists are yet to come up with desirable solution to estimating regional fluxes, at lower uncertainty and bias. This mainly due to two reasons: (1) Spatially inhomogeneous measurement network, (2) Errors in chemistry-transport models. In JAMSTEC, we have been working on both these topics, initially to develop the best possible measurement systems (e.g., towards NIES/MoE GOSAT) and in situ networks (with JAL/NIES CONTRAIL), and then understanding the atmospheric cycling of carbon dioxide (CO2), methane (CH4), nitrous oxide (N2O) and several other halogenated species. We have found ways to validate model transport as being the part of the TransCom community as well as our own ideas for constrain loss of major hydrogenated species through reaction with hydroxyl (OH). Over the past couple of years we are quantifying uncertainties due to different components of chemistry and transport errors on estimation of GHG fluxes by inverse modeling. In this presentation, I will show our recent results and give a perspective of future directions for GHG modeling group.
Presentation material


Atmospheric constraints on greenhouse gases fluxes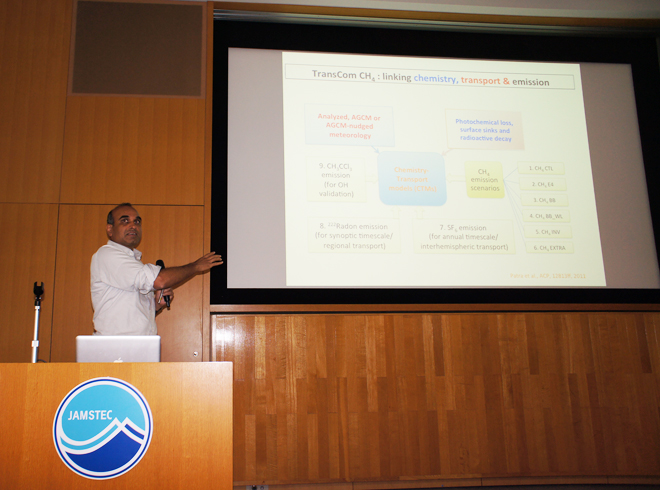 Dr. Prabir K. Patra