14:00 - 15:00, June 6, 2016. Miyoshi Memorial Auditorium, Yokohama Institute of JAMSTEC
Agenda
13:30 -- 14:00
Administrative issues (R. Suzuki)
14:00 -- 15:00
Topic 1: Kazuyoshi Suzuki, Koji Matsuo and Tetsuya Hiyama

Satellite gravimetry-based analysis of terrestrial water storage and its relationship with run-off from the Lena River in eastern Siberia

15:15 -- 16:15
Topic 2: Yugo Kanaya, Shin Nagai, Eko Siswanto and colleagues

Planning JAMSTEC satellite sensors: Driving hotspot research on carbon and other cycles using "hyperspectral" remote sensing
Abstracts
Kazuyoshi Suzuki, Koji Matsuo and Tetsuya Hiyama
"Satellite gravimetry-based analysis of terrestrial water storage and its relationship with run-off from the Lena River in eastern Siberia"
We used 146 months of data from the Gravity Recovery and Climate Experiment (GRACE) spanning the period from April 2002 to August 2015 to analyse terrestrial water storage (TWS) in the Lena River basin. We examined the lag correlation between TWS values and the annual run-off from the Lena River and found a strong linear relationship between a given year's river run-off and the TWS during November of the previous year. This relationship persisted throughout the winter until the following May. We also found a negative trend in TWS in the downstream portion of the Lena River basin, which might be explained by increasing evapotranspiration associated with warming summer air temperatures. A better understanding of the Arctic freshwater cycle will require additional GRACE data and river run-off data.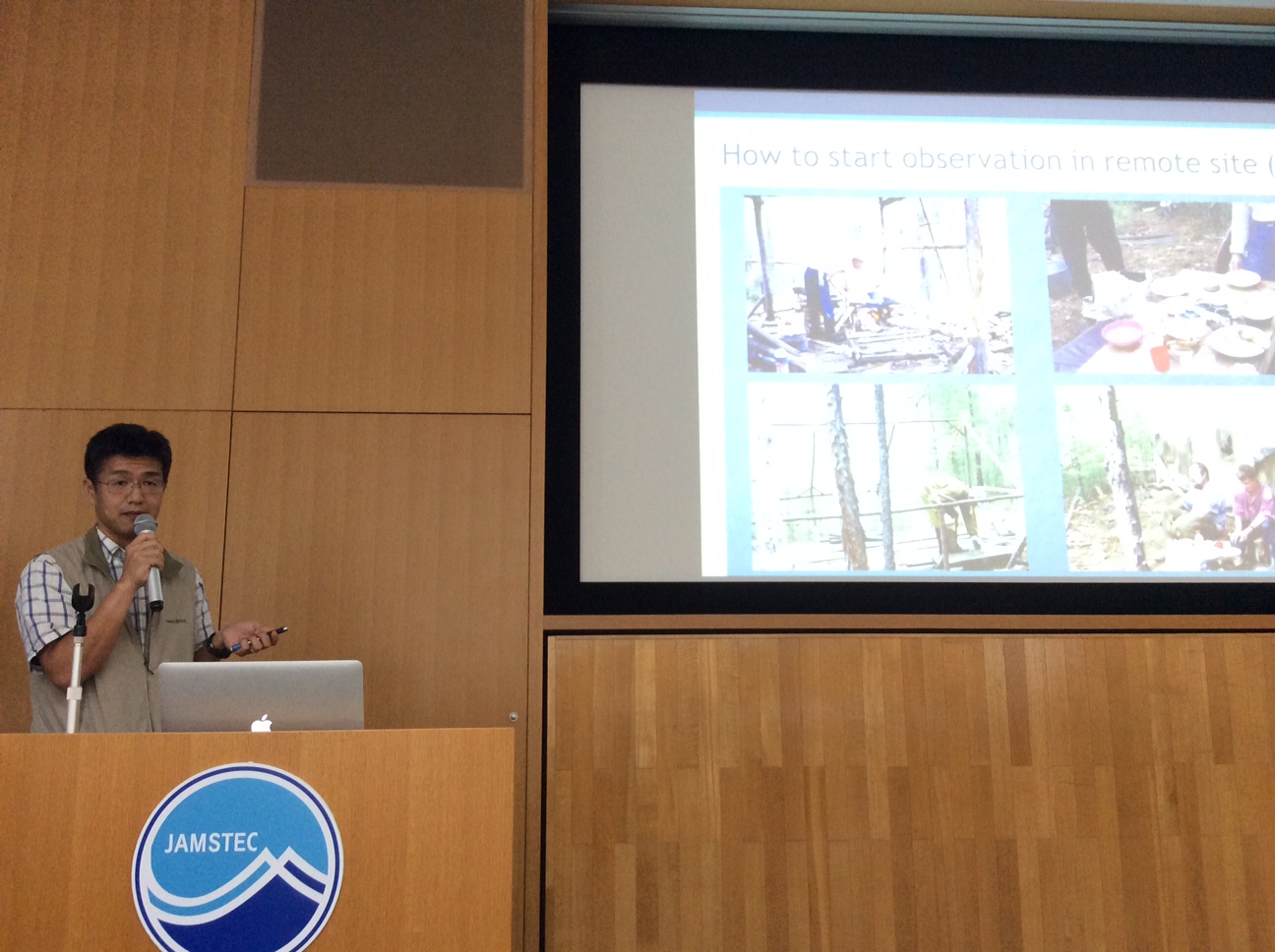 Kazuyoshi Suzuki
Yugo Kanaya, Shin Nagai, Eko Siswanto and colleagues
"Planning JAMSTEC satellite sensors: Driving hotspot research on carbon and other cycles using "hyperspectral" remote sensing"
Satellite observations of the Earth's environment have been successful in providing spatial information of important parameters such as column densities of atmospheric species, terrestrial and oceanic variables etc. related with global warming issues. However, information is still not sufficient such that science-driven decision making is enabled. New technologies may open up the capabilities; one possible direction is to employ leading-edge "hyperspectral" sensors, to obtain critical information on new essential parameters and on traditional parameters but with dramatically improved spatial resolution or accuracy. For example, observations of atmospheric NO2 at 1 km scale, a marker molecule for pollution that has been observed at 20-100 km scales, will enable comprehensive mapping of CO2 source locations left unidentified. Spectral observation will provide superior information on carbon sink and related processes as well. For instance, "species-specific" information of oceanic phytoplankton and terrestrial ecosystems could be obtained with less influence from co-present DOC or atmospheric aerosols, as opposed to the cases of multiband-based observations. Altogether, understanding of source and sink "hotspots" on carbon and other cycles is dramatically advanced and thereby decision makers developing control/mitigation strategies are directly assisted. Here, a project idea that JAMSTEC leads such development of sensors and drives new science, submitted in February to planning division, is explained and discussed from both scientific and technological aspects.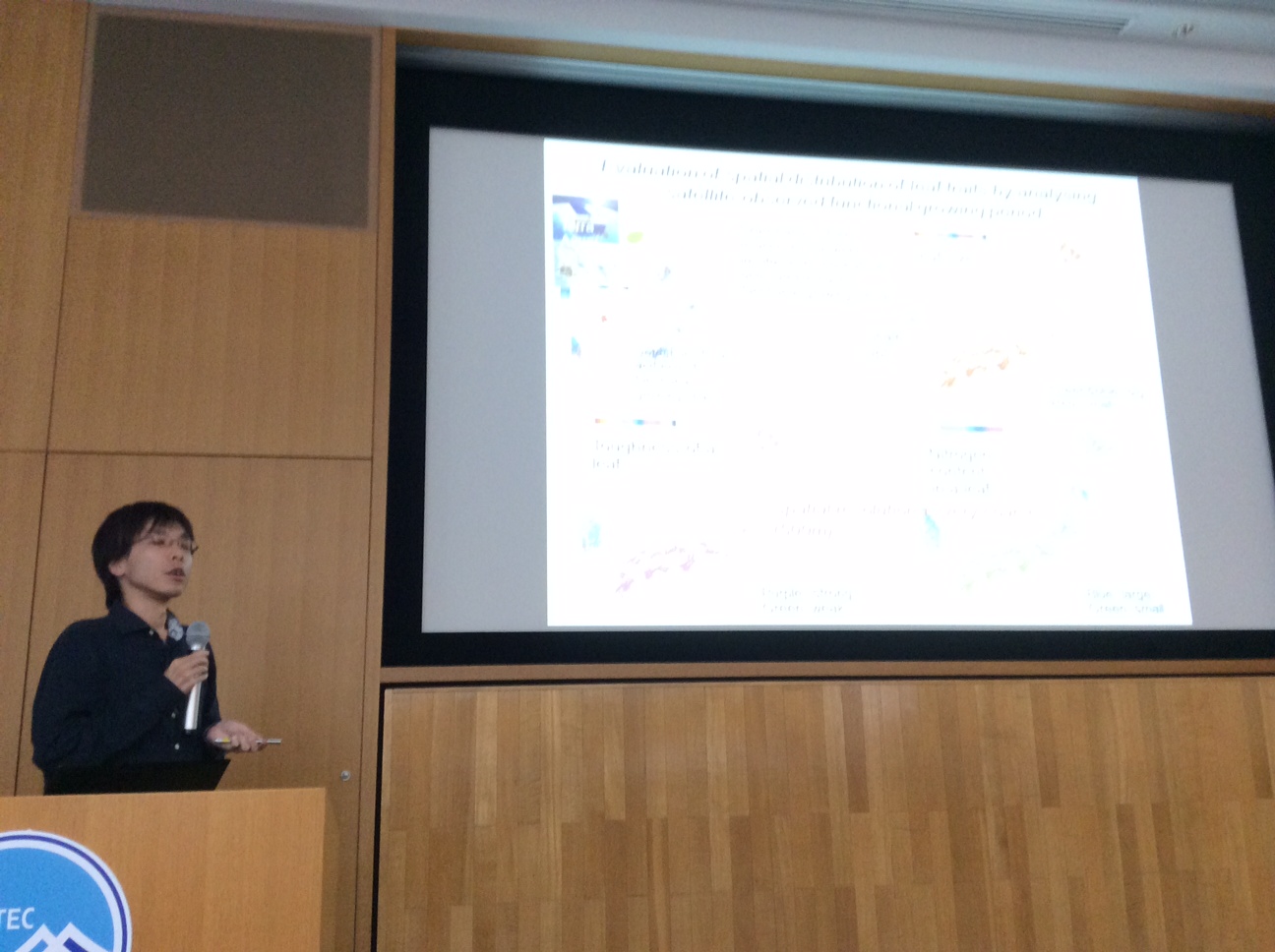 Shin Nagai