14:00 - 16:15, December 22, 2016. Yokohama Institute of JAMSTEC
Agenda
13:30 -- 14:00
13:30-14:00 Administrative issues (R. Suzuki)
14:00 -- 15:00
Topic 1: Kazuhiko Matsumoto

Nutrient availability in the subtropical ocean: controlling factor of phytoplankton abundance

15:15 -- 16:15
Topic 2: Tazu Saeki

Implications of overestimated anthropogenic CO2 emissions on East Asian CO2 sources and sinks estimations
Abstracts
Kazuhiko Matsumoto
"Nutrient availability in the subtropical ocean: controlling factor of phytoplankton abundance"
Phytoplankton are generally nutrient-limited in the subtropical ocean, since nutrient concentration is quite low within the sunlit layer all the year around. In fact, however, nutrient availability and its impact on marine biogeochemistry vary with seasons in the northwestern subtropical Pacific. At south of the Kuroshio Extension, we observed apparent phytoplankton bloom (remarkable increase of phytoplankton) by shipboard and satellite observations during winter and spring. Such phytoplankton bloom was attributed to the supply of a small amount of nutrients via the winter mixing. Though the season progressed from winter to spring, satellite data with high spatial resolution revealed that the location of phytoplankton bloom shifted to the region of lower sea surface temperature. During winter, stratification after deep mixing was suggested to be a trigger of phytoplankton bloom, because limiting factor of phytoplankton was associated with the decrease of light availability rather than nutrients. During spring, phytoplankton bloom was caused by the nutrient supply via the breakdown of stratification, because nutrients were consumed fully within the surface stratified-water associated with the winter bloom. After that, aerosol is expected to be an important source of nutrients, since phytoplankton are nutrient-limited within the upper stratified-water. In this talk, seasonal variability of phytoplankton abundance and its controlling factors in the subtropical Pacific are discussed, in addition, a result of incubation experiment with the addition of aerosol nutrients is shown.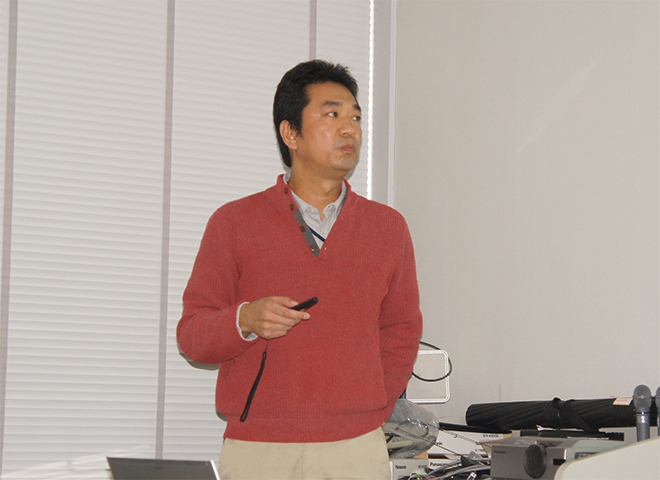 Kazuhiko Matsumoto
Tazu Saeki
"Implications of overestimated anthropogenic CO2 emissions on East Asian CO2 sources and sinks estimations"
Measurement and modelling of regional or country-level carbon dioxide (CO2) fluxes are becoming critical for verification of the greenhouse gases emission control. One of the commonly adopted approaches is inverse modelling, where CO2 fluxes (emission: positive flux, sink: negative flux) from the terrestrial ecosystems are estimated by combining atmospheric CO2 measurements with atmospheric transport models. The inverse models assume anthropogenic emissions are known, and thus the uncertainties in the emissions introduce systematic bias in estimation of the terrestrial (residual) fluxes by inverse modelling. Here we show that the inverse model estimated CO2 sink increase over East Asia (China, Japan, Korea and Mongolia), by about 0.28 PgC (1 Pg = 1012 g) during the late 2000s, is an artifact of the anthropogenic CO2 emissions increasing too quickly in China. Independent results from methane (CH4) inversion suggested about 41% lower rate of East Asian CH4 emission increase during 2002-2012. By applying a scaling factor (0.59), based on CH4 inversion, to the rate of anthropogenic CO2 emission increase, we find no systematic increase in land CO2 uptake over East Asia during 1993-2012 or within the 2000s. High bias in anthropogenic CO2 emissions leads to stronger land sinks in global land-ocean flux partitioning in our inverse model. The corrected anthropogenic CO2 emission also produce measurable reduction in the rate of global land CO2 sink increase post-2002, leading to a better agreement with the terrestrial biospheric model simulations that include CO2-fertlization and climate effects.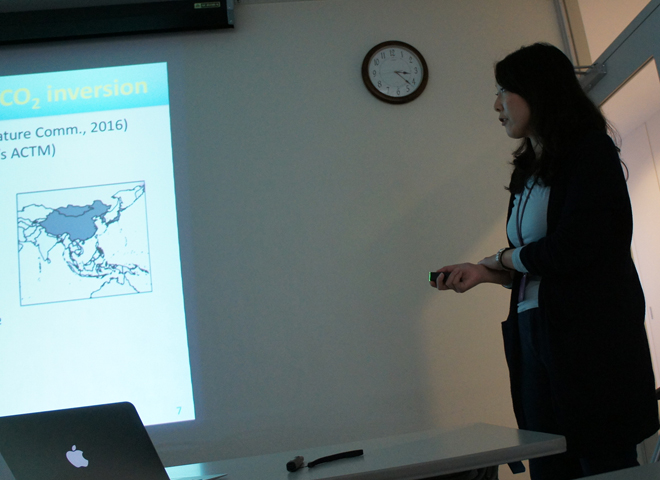 Tazu Saeki