Method for producing biomanganese oxide suitable for metal recovery
Bio-manganese oxide is an oxide produced by Mn2+ being oxidized by manganese-oxidizing bacteria and has a high adsorption ability for metal ions such as Ni and Co. However, since manganese-oxidizing bacteria are aerobic heterotrophic bacteria, administration of organic substances is necessary for their cultivation. Since the organic matter competes with other aerobic bacteria that utilize the organic matter, it is difficult to dominate the manganese-oxidizing bacterium, which has a slow utilization rate of the organic matter. The present invention is a method for enrichment culture of manganese-oxidizing bacteria making manganese-oxidizing bacteria dominant, biomanganese oxide production method, metal recovery method and microbial community. The method include following configurations.
An organic substrate is supplied to the microorganism holding member that holds manganese-oxidizing bacteria and manganese dioxide in advance, or an activated sludge is supplied to the microorganism holding member that holds manganese-oxidizing bacteria in advance, instead of the organic substrate.
By this method, manganese-oxidizing bacteria can be dominantly propagated and accumulated in the microorganism-holding member while suppressing the growth of microorganisms except manganese-oxidizing bacteria. Further, the metal recovery method is to supply the liquid containing one or more metals selected from Cu, Co, Cd, Zn, Ni, Sn, Pb, Ca, Fe, Rd, Hg, U, Pu, Po, As, Se, and Th to the bio-manganese oxide produced by the manganese-oxidizing bacteria and recover the metal adsorbed by the dropped bio-manganese oxide. The device 1 is a down-flow hanging sponge type device, which includes a container 11, a liquid supply path 12, a liquid discharge path 13, a valve 14, a biomanganese oxide recovery unit 15, a microorganism holding member 21, a thread 22, a gas supply path 31, and a gas exhaust path 32.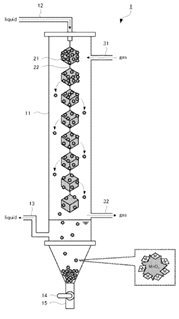 Metal recovery from industrial wastewater, environmental protection
Item name
:
Method for enrichment culture of manganese-oxidizing bacteria, method for producing biomanganese oxide, method for recovering metal, and microbial community