Improvement of accuracy of fishing ground prediction by sharing marine environment data and fishery data
Conventional fishing ground forecasts have been made independently based on many years of experience of each fisherman and individually accumulated fishery data. There was a problem that it was not possible to accurately predict the fishing grounds because the fishermen's database did not store the data of others because they tended to be kept secret due to fear of information leakage. Furthermore, the marine environment that fluctuates year by year cannot be fully expressed only by past data, and the marine environment at the time of operation cannot be accurately grasped, so that there is a problem that the fishing ground prediction accuracy cannot be improved.
The present invention is a fishing ground prediction system having the following configuration.
1) The fishing ground prediction system 10 includes an observation data DB 111 that stores observation data such as catches and water temperatures observed by users.
2) The fishing ground prediction system 10 includes a shared information DB 130 that stores shared information set for each user, and shares observation data based on the shared information.
3) The fishing ground prediction system 10 includes a fishing ground prediction unit 141 that predicts fishing grounds using shared data.
In the above configuration, since there is an incentive to obtain the observation data of another person by providing the observation data, it is possible to actively share the data. In addition, the latest observation data is recorded, which improves the accuracy of fishing ground prediction.
The observation data includes latitude and longitude information, fish detection information, catch amount for each catch target, chlorophyll amount, water depth, water temperature, salinity, flow velocity, mixed layer depth, sea level altitude, and sea level altitude gradient.
The user information includes a user name, group information such as a fleet to which the user belongs, and a catch target.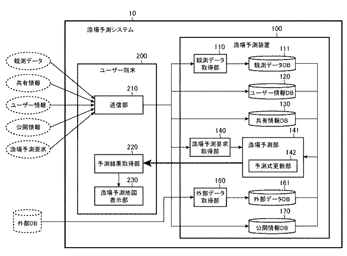 Fisheries, Ocean research
Item name
:
Fishing ground prediction device, fishing ground prediction system, marine environment data sharing device and marine environment data sharing system