The International Ocean Discovery Program (IODP*1) will begin Expedition 374, "Ross Sea West Antarctic Ice Sheet History: Ocean–ice sheet interactions and West Antarctic Ice Sheet vulnerability: clues from the Neogene and Quaternary record of the outer Ross Sea continental margin" aboard the JOIDES Resolution*2 on January 4, 2018.
Shipboard researchers are comprised of 30 members, including three scientists from Japan, and also from the U.S., Europe, New Zealand, Brazil, South Korea, India and China.
More details of IODP Expedition 374 can be found here:
http://iodp.tamu.edu/scienceops/expeditions/ross_sea_ice_sheet_history.html
*1 International Ocean Discovery Program (IODP)
The International Ocean Discovery Program (IODP) is a multinational cooperative project that started in October 2013. The scientific drilling vessel D/V Chikyu, operated by Japan, and the JOIDES Resolution, operated by the U.S., are utilized for expeditions. There is also an option to charter mission-specific platforms by European countries. The mission of the IODP is to shed light on global environmental changes, the earth's mantle and crustal dynamics and tectonics, and the biosphere beneath the seafloor. It took over the Integrated Ocean Drilling Program carried out from October 2003 to 2013.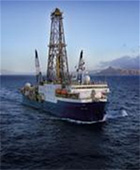 JOIDES Resolution ©IODP
*2 The JOIDES Resolution is the U.S. drilling vessel that participates in the IODP.
Compared to the deep-sea scientific drilling vessel, the Chikyu by JAMSTEC, the JOIDES Resolution is used more often for drilling in shallow waters.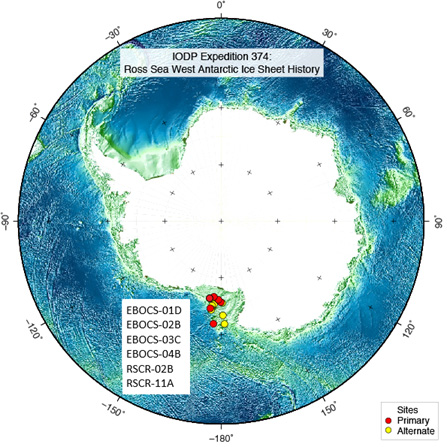 Figure 1. Drilling sites in this expediton 374 ©IODP
The red and yellow circles indicate primary and alternate sites, respectively.
(IODP Copyright Statement:
http://iodp.tamu.edu/about/copyright.html
)
Table 1 Overview of Drilling Sites (order of drilling)
Site
Water
Depth (m)
Depth of
penetration (m)
Estimated
working days
at site (days)
EBOCS-03C
558
545
4.1
EBOCS-01D
566
950
7.0
EBOCS-04B
480
520
3.8
RSCR-02B
2,550
1,000
13.0
RSCR-11A
1,534
500
6.7
EBOCS-02B
658
500
3.8
*These drilling sites are subject to change depending on cruise preparations, climate conditions, research progress, and expedition time constraints.