Seminar Informations (FY2017)
6th Marine Functional Biology Group Seminar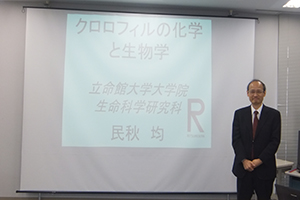 DATE

2018/01/17 14:00-15:00

PLACE

Yokosuka (HQ)

TITLE

"Chlorophyll Chemistry and Biology"

SPEAKER

HOST

Yusuke Tsukatani (R&D Center for Marine Biosciences)

ABSTRACT

Chlorophylls (Chls) are found in photosynthetic apparatuses. Chl and bacteriochlorophyll (BChl) molecules absorb sunlight and the excited energy is migrated efficiently and rapidly among these pigments in light-harvesting antenna systems. The light energy is finally transferred to (B)Chls in a reaction center, where charge separation occurs between specific (B)Chl molecules. These naturally occurring pigments have intense absorption bands in a wide range of visible regions and some of them absorb near-infrared lights intheir monomeric states as well as aggregates with J-type fashions. Their electronic absorption spectra in a solution are dependent on the peripheral substituents. Their optical properties are discussed from the viewpoint of molecular structures including composite π-skeletons.
---
15th Frontier Research Group Seminar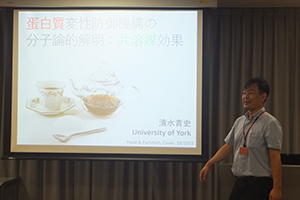 DATE

2017/08/07 15:00-16:00

PLACE

Yokosuka (HQ)

TITLE

"The mechanism of osmoprotection on a molecular scale"

SPEAKER

Dr. Seishi Shimizu (Department of Chemistry, University of York, UK)

ABSTRACT

Life under extreme conditions, such as deep sea, heat, cold and high salinity, exposes enzymes to denaturation stress which decreases their stability. For survival, organisms tend to accumulate various osmolytes, most notably sugars, polyols and amino acid derivatives (such as trehalose, glycerol and trimethylamine N-oxide (TMAO)) to counteract denaturation (Ref 1). Yet exactly how they work on a molecular scale has long remained unclear. Here we show that rigorous statistical thermodynamics (Ref 2,3) can shed light on the mechanism of osmoprotection (Ref 3,4). The underlying interactions, namely the weak, non-specific, and dynamic interactions of water and osmolytes with proteins, are shown to be characterized only statistically (Ref 5), and that the competition between protein-osmolyte and protein-water interactions is crucial in the maintenance of conformational stability (Ref 3,4). Osmoprotection is driven by a stronger exclusion of osmolytes from the denatured protein than from the native conformation, and the water distribution has no significant effect on these changes for low osmolyte concentrations (Ref 3,4). The same principles can be applied to reveal the molecular-based mechanism of food gelation in the presence of sugars and polyols (Ref 6).

REFERENCES

P. H. Yancey and J. F. Siebenaller, J. Exp. Biol., 2015, 218, 1880–96.
S. Shimizu, Proc. Natl. Acad. Sci. U. S. A., 2004, 101, 1195–1199.
S. Shimizu and N. Matubayasi, J. Phys. Chem. B, 2014, 118, 3922–3930.
S. Shimizu and P. E. Smith, ChemPhysChem, 2017, DOI: 10.1002/cphc.201700503.
S. Shimizu and N. Matubayasi, Phys. Chem. Chem. Phys., 2017, DOI: 10.1039/c7cp02132a.
S. Shimizu, R. Stenner and N. Matubayasi, Food Hydrocoll., 2017, 62, 128–139.
---