JAMSTEC News
Executive Director Dr. Hide Sakaguchi spoke at the International Symposium Commemorating the 25th Anniversary of Japan–Palau Diplomatic Relations: "Achieving a Sustainable Ocean – Palau's Initiatives and International Partnership."
International Symposium Comemorating the 25th Anniversary of Japan–Palau Diplomatic Relations: "Achieving a Sustainable Ocean – Palau's Initiatives and International Partnership." was held at the International Conference Hall on the 11th Floor of Sasakawa Peace Foundation Building on Monday, November 11, 2019.
In this symposium, the President of the Republic of Palau, His Excellency Tommy E. Remengesau , Jr., who works globally as a driving force on various initiatives concerning ocean-related issues while domestically promoting advanced approaches for the conservation and sustainable use of the oceans, seas, and marine resources, delivered a keynote address on "Palau's Ocean Policy and Actions and International Partnership." He also talked about Palau's cutting-edge approaches toward achieving a sustainable ocean, a subject aggressively promoted by the Palauan government, as well as the latest developments of "High Level Panel for a Sustainable Ocean Economy*," where he co-chairs with the Prime Minister of Norway with participation of global leaders including Prime Minister Shinzo Abe.
Executive Director Hide Sakaguchi from the Japan Agency for Marine-Earth Science and Technology (President, Dr. Tadashi Matsunaga; hereinafter referred to as "JAMSTEC") participated as a panelist in the panel discussion: "Sustainable Ocean and Palau–Japan Cooperation" to talk about the current and future state of Palau–Japan cooperation initiatives for achieving sustainable oceans. He touched on the meteorological and climate observation research and earthquake monitoring activities that JAMSTEC has been conducting in Palau for about 20 years as well as introduced JAMSTEC's plan to carry out marine plastics research project and promotion of ocean literacy in collaboration with the 2019-2020 Japan–Palau Goodwill Yacht Race, which will start from Yokohama Port on December 29, 2019, and sail a distance of approximately 3,000 km over a period of nearly 2 weeks to Koror Island in the Republic of Palau. Furthermore, he introduced JAMSTEC's plan that JAMSTEC researchers will give a lecture to young people in relation to the 7th Our Ocean Conference scheduled to be held in Palau in August 2020 on the occasion of port calls of JAMSTEC's oceanographic research vessel "Mirai" in Palau in June and August 2020.
In addition, Executive Director Sakaguchi discussed Palau's initiatives and international partnership in marine conservation with the Minister of State of the Republic of Palau, the Hon. Faustina K. Rehuher-Marugg, and the Ambassador Extraordinary and Plenipotentiary of the Republic of Palau to Japan, H. E. Mr. Francis Matsutaro.
On the following day, the reception was held in Tokyo for cerebrating 25 years of independence of the Republic of Palau and 25 years of diplomatic relations with Japan. Prime Minister Shinzo Abe, who participated in the event, mentioned that the government would do its best to encourage the Our Ocean Conference which is to be hosted by Palau in 2020. On top of that, President Tommy E. Remengesau, Jr. and the Ambassador of the Republic of Palau to Japan, H.E. Mr. Francis Matsutaro, expressed, in their speeches, their expectations for JAMSTEC's marine plastics research that would be conducted during the Japan–Palau Goodwill Yacht Race.
*JAMSTEC Executive Director Sakaguchi is a member of the expert group established under this High Level Panel and contributes to the preparation of reports issued by the Panel.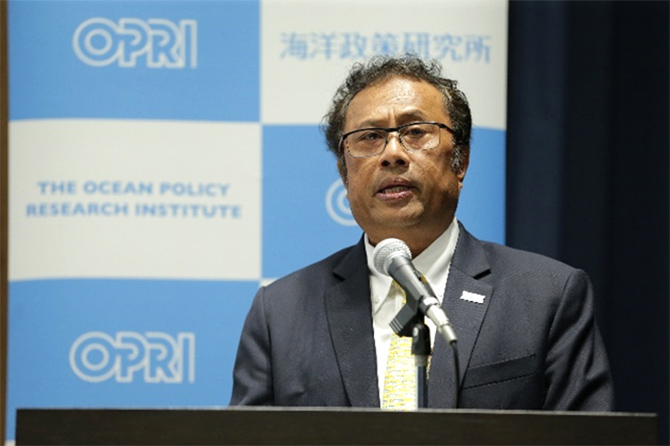 Keynote Address by President Tommy E. Remengesau, Jr.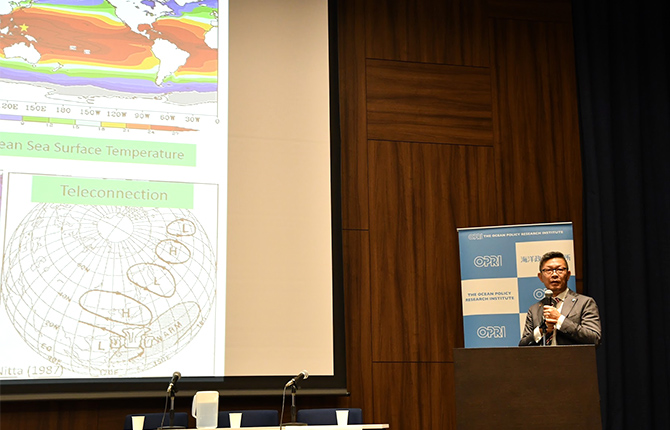 Presentation by Executive Director Sakaguchi.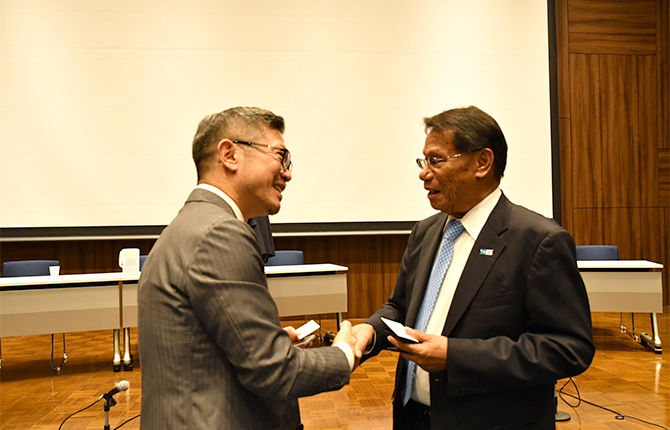 Executive Director Sakaguchi (Left),
and Ambassador Extraordinary and H.E. Mr. Francis Matsutaro (Right).