JAMSTEC News
Japan-France Partnership in Ocean Observation
A scientific workshop for Subsea observatory in the South Pacific and its surrounding ocean *1, which was co-hosted by several Japanese and French organizations including the Japan Agency for Marine-Earth Science and Technology (JAMSTEC: Tadashi Matsunaga, President) as well as the French Research Institute for Exploitation of the Sea (IFREMER), was held in Nouméa, in the French territory of New Caledonia from September 19 to 20, 2019. JAMSTEC Executive Director Dr. Hide Sakaguchi, IFREMER Chief Executive Officer Dr. François Houllier, and many other stakeholders including researchers from different Japanese and French organizations, participated in this workshop to discuss matters relating to starting a joint observation project, such as purposes, subjects and methods. The Ocean Policy Research Institute, The Sasakawa Peace Foundation (OPRI-SPF), one of the co-hosts, had offered to shoulder the travel expenses of Japanese researchers participating in this workshop.
Also, the 1st Japan-France Comprehensive Maritime Dialogue*2 was held in Nouméa on September 20, 2019. Japanese and French government ministries and agencies responsible for their countries' maritime affairs gathered to exchange opinions about both states' initiatives and the likelihood of future partnership in such fields as ocean governance, the environment, ocean security, blue economy, and science. In the area of oceanography, JAMSTEC's Executive Director Sakaguchi and IFREMER Head of Physical Resources and Deep-Sea Ecosystems Jean-Marc Daniel issued a joint communique based on the outcomes of the above-mentioned workshop. Their joint communique later led to the reputation that leading Japanese and French organizations involved in oceanography have successfully built a collaborative relationship.
In relation to this, Mr. Kunihiko Kawazu, Deputy Director-General, European Affairs Bureau, Ministry of Foreign Affairs of Japan as a co-chair of the Japan-France Comprehensive Maritime Dialogue on behalf of the Japanese side, visited JAMSTEC's Tokyo Office on November 11, 2019 to meet Executive Director Sakaguchi and to commend JAMSTEC's efforts at the Dialogue. The two then talked about future initiatives to further strengthen the partnership between Japan and France, including diplomatic relationships developed through oceanographic activities and people-to-people exchange programs. At the end of the meeting, Sakaguchi handed to Kawazu the "Workshop Summary and Project Foundations Report on Japan-France Scientific Workshop Results" that JAMSTEC prepared in collaboration with other organizations, including IFREMER and CNRS.
*1 Japan-French Scientific Workshop:
"Subsea observatory in the South Pacific and its surrounding ocean: Scientific frontiers and technical challenges"
*2 The Japan-France Comprehensive Maritime Dialogue:
Japan and France, which are both deeply concerned with the Pacific Ocean, agreed as maritime nations that they would promote cooperation aiming to preserve and improve the Indo-Pacific as a free and open region during the Fifth Japan-France Foreign and Defense Ministers' Meeting ("2+2") in January 2019. In relation to this, the Dialogue was established as a venue for discussing specific cooperation activities between both countries, especially in the oceanographic field.
(See the website of Ministry of Foreign Affairs of Japan)
After the summit meeting between Prime Minister Shinzo Abe and French President Emmanuel Macron that was held prior to G20 held in Osaka on June 26, 2019, a joint communique was issued, in which they requested that the Japan-France Comprehensive Maritime Dialogue be early held.
(See the website of Prime Minister's Official Residence)
In addition, Minister of Higher Education, Research and Innovation Frédérique Vidal mentioned the importance of the Japan-France Comprehensive Maritime Dialogue when she visited JAMSTEC's Tokyo Office in relation to President Macron's visit to Japan for G20 on June 27, 2019. (See JAMSTEC's website)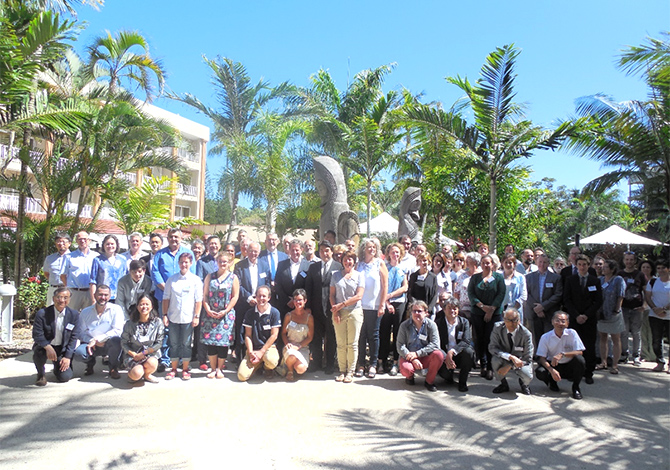 Group Photo of Participants in Japan-French Scientific Workshop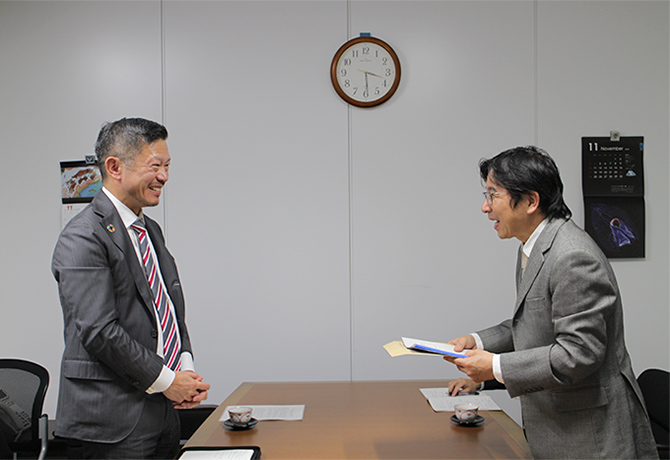 Executive Director Sakaguchi, (Left) and Mr. Kawazu, Deputy Director-General, European Affairs Bureau, Ministry of Foreign Affairs of Japan (Right)