September 30 (Tue), 2014. Miyoshi Memorial Auditorium, Yokohama Institute of JAMSTEC
Agenda
09:30 -- 10:15
Administrative issues etc (Director Rikie Suzuki)
Interdiciplinary seminars (English, discussion can be in Japanese)
10:20 -- 11:20
(ca. 40 min + 20 min)
Refining terrestrial carbon flux estimation in Asia by synthesizing bottom-up and top-down estimates: Available methods and first results (Dr. Kazuhito Ichii)
11:20 -- 12:20
(ca. 40 min + 20 min)
Ocean colour remote sensing observations for ocean surface biogeochemical studies (Dr. Eko Siswanto)
Abstracts
Refining terrestrial carbon flux estimation in Asia by synthesizing bottom-up and top-down estimates: Available methods and first results (Dr. Kazuhito Ichii)
Understandings of current terrestrial carbon budget is important for better projection of future climate and carbon cycles, establishment of inter-govermental policy, and detection of vulnerable regions responding to climate changes. Many efforts have been conducted to estimate carbon budget so far by synthesizing bottom-up and top-down estimations. For example, RECCAP (REgional Carbon Cycle Assessment and Processes) attempted continental scale estimation of carbon budget using currently available estimations. These studies showed large uncertainties in carbon budget estimation in each approach and method.
One of the reason is that these estimations did not include available current observation data effectively.

Purpose of the study is to improve terrestrial carbon budget estimation using the latest estimation and available observation as possible. First, we developed empirically upscaled C-flux estimation using eddy-covariance observation sites and satellite data in Asia.
Second, we are working on model intercomparison project in Asia (Asia-MIP) using multiple models, and the preliminary results will be shown. Third, using updated estimations using top-down approaches, we assessed similarity and differences among bottom-up estimations and top-down estimations.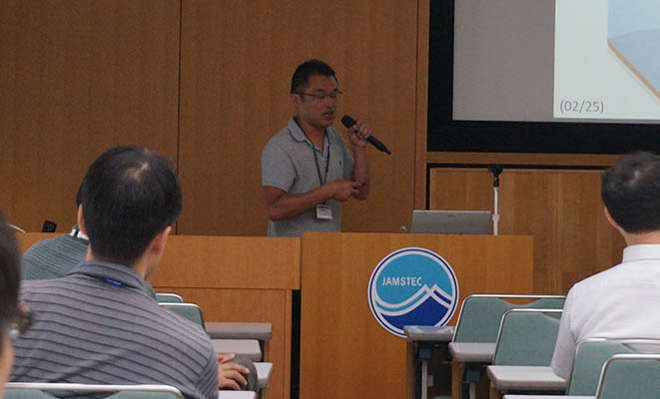 Kazuhito Ichii
Ocean colour remote sensing observations for ocean surface biogeochemical studies (Dr. Eko Siswanto)
Satellite remote sensing is proven tool for providing repeated large spatial scale observations on the changing surface earth. Remote sensing of ocean colour, having primary objective to retrieve the ocean water constituents, is one of the main tools to understand the coastal and/or ocean surface changes particularly related to the changes in marine microscopic plants (phytoplankton). Ocean colour observation is most useful when used in conjunction with other platform/sensor-based observations (e.g., thermal, microwave sensors, etc.), and thereby is widely implemented in various operational ocean/coastal monitoring systems, used to discern surface ocean biogeochemical responses to global climate change/warming, as well as the underlying land-atmosphere-ocean interactions.

In this presentation, several studies rely on ocean colour observations will be introduced. The studies range spatially from coastal region to open ocean, meridionally from tropical region to polar region, and comprise the issues inter alia; algal bloom detection, land-atmosphere-ocean interactions, and impacts of global warming on oceanic phytoplankton.
Presentation is therefore expected to provoke interdisciplinary research collaborations among the researchers in this department and related research and development centers.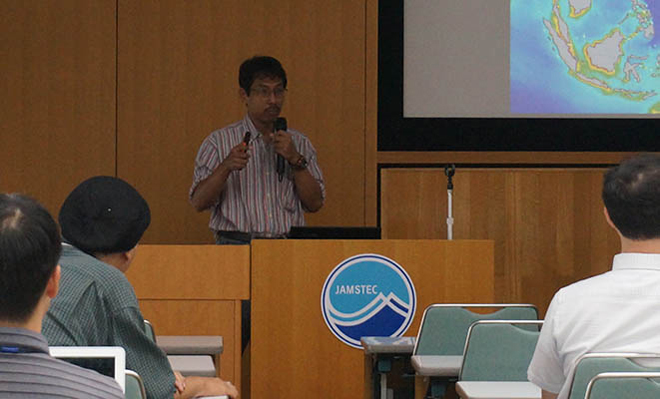 Eko Siswanto
Presentation material


Ocean colour remote sensing observations for ocean surface biogeochemical studies