Saffer explains, "The NanTroSEIZE project was divided into four stages. Expedition 348, that we've just completed, is stage three."
Interviewees.
Professor Demian Saffer
Co-chief Scientist, NanTroSEIZE expedition 348, Pennsylvania State University
Dr. Sean Toczko
Expedition Project Manager on expedition 348,(CDEX/JAMSTEC)
Special thanks:Teruyuki Koyama (Mantle Quest Japan),Michio Fukaya (Mantle Quest Japan),Ross Manthon (Mantle Quest Japan)
Expedition 348 achieved objectives
 Saffer reiterates with obvious enthusiasm, "From a scientific point of view we basically achieved all of the objectives for expedition 348. The only difference between plan and outcome was reaching 3,000 meters while the target was 3,600. Otherwise we were able to do exactly what we intended to do. The logging, the collection of cuttings, the core sampling in addition to the operational objective of installing the casing in the hole that makes it stable and allows us to go back, reenter and go deeper. All of those things were accomplished and that was really exciting for us."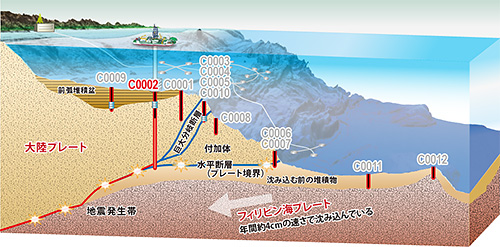 Incredibly impressive and one of the most exciting solid earth projects
"For me, every time I see riser-type drilling it is incredibly impressive," declares Saffer. "The scale and the degree of difficulty of drilling in this environment is amazing and I'm very excited and impressed by the operations group and their ability to make this all happen. So it's not a single moment as much as the entire process that's quite remarkable. From my point of view the NanTroSEIZE project as a whole is one of the most exciting major projects that's ever been undertaken in the solid earth sciences. There are other fault zone drilling projects on the San Andreas Fault and one coming online onshore in New Zealand. They're aimed at understanding earthquake behaviour at shallow depths, a few kms, but really nothing of the scale, of the depth of the bore-holes, the size of the earthquakes, the societal relevance of those earthquakes, the damage they can do and the number of bore-holes that give us a broad view of the behaviour of the plate boundaries as it evolves from shallow to deep."