The Asia-Pacific sector experienced unusual weather conditions during the boreal summer of 1994. Extremely dry and hot summer prevailed over Japan whereas Indian sub-continent and East Asia experienced heavy monsoon rain leading to flood in many parts. Such climate variability in the monsoon rains in the Indian sub-continent is often believed to be related to ENSO event in the Pacific. Though there was some indication of a weak warm ENSO in the Pacific during 1994, this cannot explain heavy monsoon rains over India as the warm phase of ENSO is statistically inversely related with the monsoon rain. On the other hand, the southeastern tropical Indian Ocean was anomalously cold during the event with warm anomalies in the central region and the classical fall Yoshida-Wyrtki jet in the equatorial Indian Ocean was absent in the equatorial Indian Ocean. These unusual conditions in the Asia-Pacific regions lead to the discovery of Indian Ocean Dipole.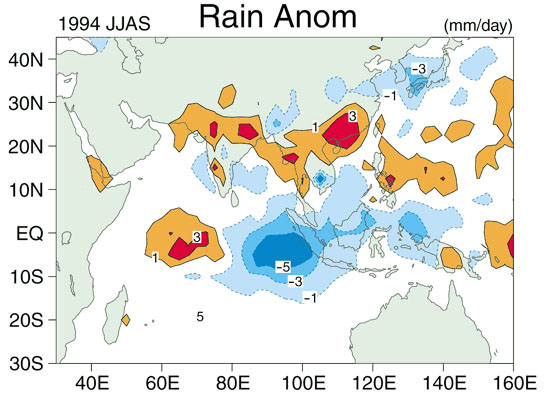 As found out by Behera et al. (1999) a positive feed-back between the convection, wind, evaporation along with the ocean dynamics helped maintain the dipole structure in the SST anomalies. The resulted anomalous moisture transport from southeastern tropical Indian Ocean gave rise to the enhanced convection over Indian sub-continent and East Asia. As it is already known that enhanced convection north of Philippines is inversely related with the rainfall over Japan,it is suggested that such anomalous condition in the eastern Indian Ocean is linked to the 1994 dry summer condition over Japan.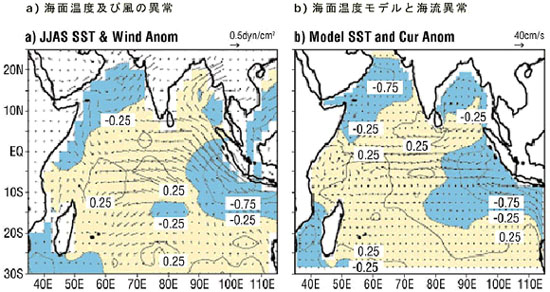 References:
P. N. Vinayachandran, N. H. Saji and Toshio Yamagata, Response of the equatorial Indian Ocean to an unusual wind event during 1994. Geophysical Research Letters, vol. 26, no 11, pages 1613-1616, 1999.
Behera, S.K., Krishnan, S., and Yamagata, T., Unusual ocean-atmosphere conditions in the tropical Indian Ocean during 1994. Geophysical Research Letters, vol. 26, no 11, pages 3001-3004, 1999.