In the $2 Million Wendy Schmidt Ocean Health XPRIZE, the HpHS Japanese team led by Dr. Yoshiyuki Nakano, the Japan Agency for Marine-Earth Science and Technology (JAMSTEC: Asahiko Taira, President) with colleagues from KIMOTO ELECTRIC CO., LTD. (Takashi Kimoto, President) ranked third for the accuracy prize. It was announced at the award ceremony held in New York on July 20th.
In the global competition, a total of 77 teams registered from all over the world, and 24 teams, including two teams from Japan, competed to develop affordable and accurate ocean pH sensor technology to help better measure our ocean's chemistry. The HpHS team is the only team from Japan moved to the final round, along with teams representing England, the United States and Norway. These five finalists embarked on a week-long sea trial at depth up to 3,000 meters to assess ocean pH values in the Pacific Ocean off the northern coast of Oahu, Hawaii from May 14 to May 20. Then, each group's sensor was evaluated based on combined scores such as in accuracy, consistency, user-friendliness, stability and affordability.
The Japanese team's HpHS (hybrid pH sensor) is unique, combining two different measurement principles. It took advantages of spectrophotometry with accuracy and long-term stability and an electrocode method with high-speed response and power-saving. Since early July, the sensor has been moored at a station K2 (47°N, 160°E) in the north-western North Pacific Ocean for time-series observations. The monitoring of the pH level of seawater will last for a year, collecting data for further researches to better understand ocean acidification.
For more information about the Wendy Schmidt Ocean Health XPRIZE, please visit http://oceanhealth.xprize.org/teams.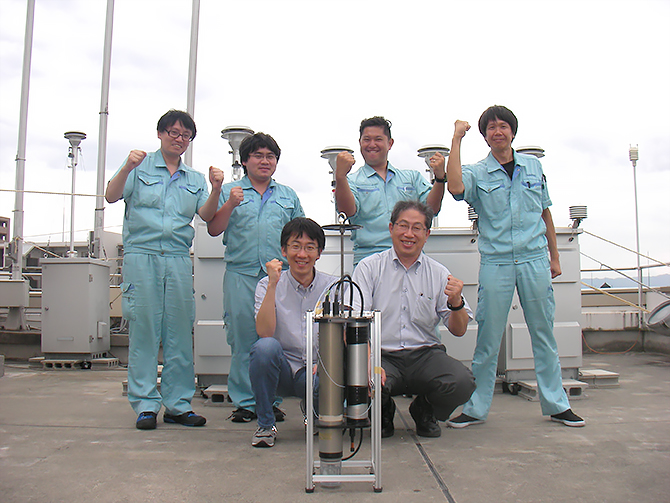 The HpHS Japanese team from JAMSTEC and KIMOTO ELECTRIC CO., LTD.
Front row from left: Yoshiyuki Nakano, Tetsuya Miwa (JAMSTEC)
Second row from left: Yasuhiko Okada, Kozaburo Nishio, Katsumoto Kinoshita, Takeshi Egashira (KIIMOTO ELECTRIC)
About XPRIZE
Founded in 1995, XPRIZE is the leading organization solving the world's Grand Challenges by creating and managing large-scale, high-profile, incentivized prizes in five areas: Learning; Exploration; Energy & Environment; Global Development; and Life Sciences. Active prizes include the $30M Google Lunar XPRIZE, the $15M Global Learning XPRIZE, the $10M Qualcomm Tricorder XPRIZE and the $2M Wendy Schmidt Ocean Health XPRIZE. For more information, visit www.xprize.org.
About Wendy Schmidt
Wendy Schmidt is President of The Schmidt Family Foundation, which strives to advance the development of clean energy and support the wiser use of natural resources. She also is founder of the foundation's grant-making arm, The 11th Hour Project, and Climate Central, an independent organization of leading scientists and journalists researching and reporting the facts about our changing climate and its impact on the American public. With her husband, Eric Schmidt, Wendy created the Schmidt Ocean Institute in 2009, which provides opportunities for urgent ocean studies aboard the RV Falkor oceanographic research vessel. Her work at non-profit ReMain Nantucket focuses on generating a model for smart community downtown development on the island, where her family spends summers. Wendy earned an M.J. in Journalism from the University of California, Berkeley and a B.A. magna cum laude from Smith College. She serves on the boards of The Natural Resources Defense Council, Climate Central, The Cradle to Cradle Products Innovation Institute, The Trust for Governors Island, XPRIZE Foundation, The 1851 Trust, Grist and MAIYET.