Overview
A research team led by Dr. Tatsuo Nozaki at Research and Development Center for Submarine Resources, the Japan Agency for Marine-Earth Science and Technology (JAMSTEC: Asahiko Taira, President) examined samples of mineral deposits and hydrothermal fluids from hydrothermal vent*1 chimneys*2 (figures 2 & 3) artificially generated in the Iheya North Knoll, the Okinawa Trough (figure 1). Based on detailed petrographic observations and chemical analysis, the team found that these new chimneys are not only growing rapidly but also containing sulfide-rich compositions similar to high-grade ore on land. The work was carried out in collaboration with researchers from The University of Tokyo, Kyushu University, Tohoku University and Waseda University.
In particular, a chimney on the bare hole*3 at the top of the North Big Chimney mound (at Hole C0016A) was dominated by dendritic chalcopyrite (CuFeS2) and sphalerite ((Zn,Fe)S) together with galena (PbS). It also contained some amounts of wurtzite ((Zn,Fe)S) as a polymorph of sphalerite, spherical pyrite (FeS2) crystals with chemical zoning, which are relatively rare in Kuroko-type deposits*4 on land, pseudomorph*5 texture of sulfide minerals*6 after dissolutions of sulfate minerals*7 and unidentified Zn-sulfate minerals (figure 4).
Moreover, the study also revealed that the sulfide-rich parts of the rapidly-growing chimneys represent an average concentration of 4.5% Cu (copper), 6.9% Pb (lead), 30.3% Zn (zinc), and 8.7% Fe (iron) as well as several hundred ppm of Ag (silver), Cd (cadmium), Sb (antimony), Ba (barium) and Bi (bismuth) and 1.35ppm Au (gold) (figure 5). These concentration levels are equivalent to those of high-grade Kuroko-type ores on land or even higher quality. It thus suggests that cultivation of mineral resources from submarine sulfide chimneys could be possible by utilizing artificial hydrothermal vents and regulating the mixing style between hydrothermal fluid and ambient cold seawater.
These findings open a new window to obtain submarine mineral resources at low exploration cost and low environmental burdens in the future. In addition, using mineralogical properties of these artificial chimneys (figure 6) should also help develop better techniques for selective precipitation and extraction of elements. As the first step for assessing possibility of Kuroko-ore cultivation towards technology development, a long-term monitoring device for measurement of physical properties of hydrothermal fluids will be deployed in the Okinawa Trough (figure 7) during a scientific drilling research by D/V Chikyu, currently underway.
The above results were posted on Scientific Reports issued by Nature Publishing Group (NPG) on February 25, 2016 (JST).
Title: Rapid growth of mineral deposits at artificial seafloor hydrothermal vents Authors: Tatsuo Nozaki1,2, Jun-Ichiro Ishibashi3, Kazuhiko Shimada4, Toshiro Nagase5, Yutaro Takaya6,1, Yasuhiro Kato2,7,1, Shinsuke Kawagucci8,9,1, Tomoo Watsuji8, Takazo Shibuya9,1, Ryoichi Yamada10, Tomokazu Saruhashi11, Masanori Kyo11 and Ken Takai8,9,1
1 Research and Development (R&D) Center for Submarine Resources, JAMSTEC
2 Frontier Research Center for Energy and Resources (FRCER), School of Engineering, The University of Tokyo
3 Department of Earth and Planetary Sciences, Graduate of School of Sciences, Kyushu University
4 Department of Earth and Planetary Sciences, School of Sciences, Kyushu University
5 The Center for Academic Resources and Archives, The Tohoku University Museum, Tohoku University
6 Department of Resources and Environmental Engineering, School of Creative Science and Engineering, Waseda University
7 Department of Systems Innovation, School of Engineering, The University of Tokyo
8 Department of Subsurface Geobiological Analysis and Research (D-SUAGR), JAMSTEC
9 Laboratory of Ocean-Earth Life Evolution Research (OELE), JAMSTEC
10 Department of Earth Science, School of Science, Tohoku University
11 Center for Deep Earth Exploration (CDEX), JAMSTEC
*1 Artificial hydrothermal vents have been generated by scientific drilling during the IODP 331 Expedition. To allow drilling on rough and sloping seabed, guide bases and corrosion caps are installed. Even after the drilling operation, hydrothermal fluid emission is still continuing.
*2 Chimney here means chimney-like ore structures formed around hydrothermal fluid vents. Metal elements dissolved in vent fluids precipitate as sulfide, sulfate and silicates minerals on seabed. These minerals solidify as they cool to form chimneys.
*3 Bare hole is a drilling hole without cashing pipes.
*4 Kuroko-type sulfide deposit: Kuroko originally means black-color sulfide ore mainly composed of sphalerite, galena and barite with tetrahedrite and pyrite. In Japan, Kuroko-type deposits are derived from submarine hydrothermal deposits with expansion of the Sea of Japan, distributing in the Green Tuff region of the Miocene epoch. They are considered to be one of important mineral resources by containing metals such as copper, lead, zinc, gold and silver.
*5 Pseudomorph: A pseudomorph is a mineral or mineral compound formed by chemical or structures changes. While the appearance or crystal form is retained, the original mineral is removed and/or replaced by another one.
*6 Sulfide minerals: A group of minerals combined with sulfide (S2-) . Main sulfide minerals included in chimney samples on artificial hydrothermal vents are chalcopyrite (CuFeS2), sphalerite ((Zn,Fe)S), galena (PbS) and pyrite (FeS2).
*7 Sulfate minerals : A group of minerals which include the sulfate ion (SO42-) in the center of their structure. Main sulfate minerals included in chimney samples on artificial hydrothermal vents are anhydrite (CaSO4), gypsum (CaSO4・2H2O) and barite (BaSO4).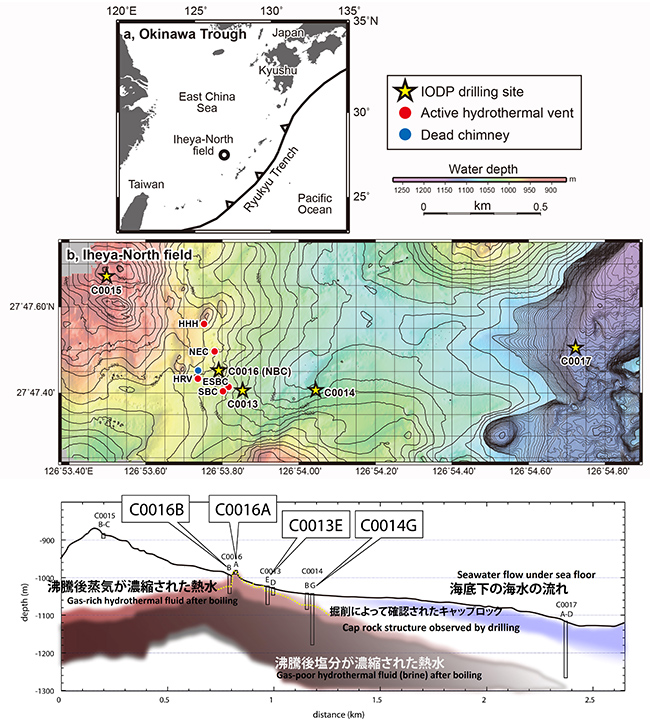 Figure 1: Location and bathymetric maps of the artificial hydrothermal vents created by drilling operation during the IODP Expedition 331 in the Iheya North Knoll, Okinawa Trough.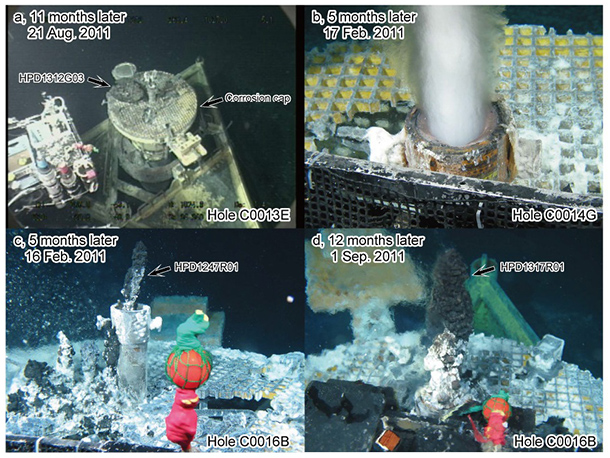 Figure 2: Photographs of the three artificial hydrothermal vents of Holes C0013, C0014G and C0016B with casing pipes after drilling operation.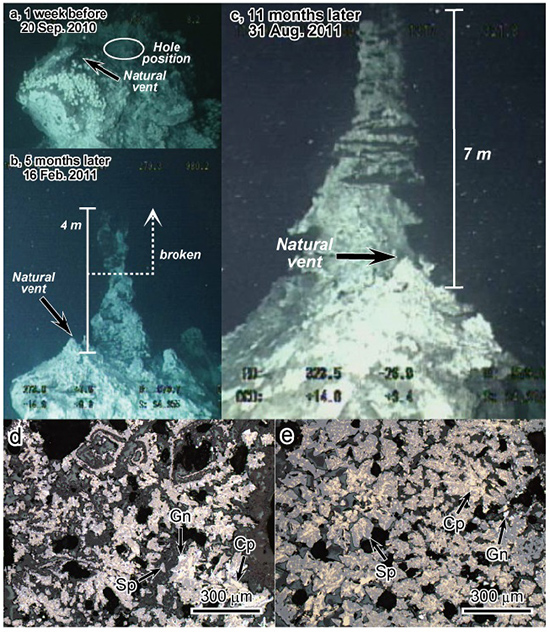 Figure 3: Rapidly growing chimney after drilling operation on the artificial hydrothermal vent (Hole C0016A) which is a bare hole without casing pipes. The bottom images show photomicrographs of chimney fragments under reflected light (open nicols).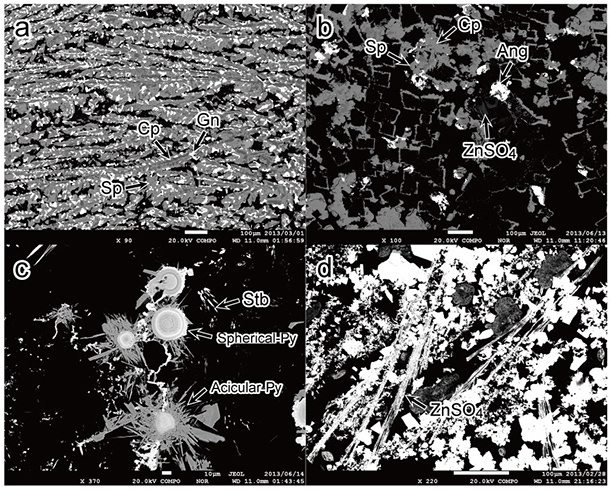 Figure 4: Back-scattered electron (BSE) images of infant chimney samples formed on artificial hydrothermal vents.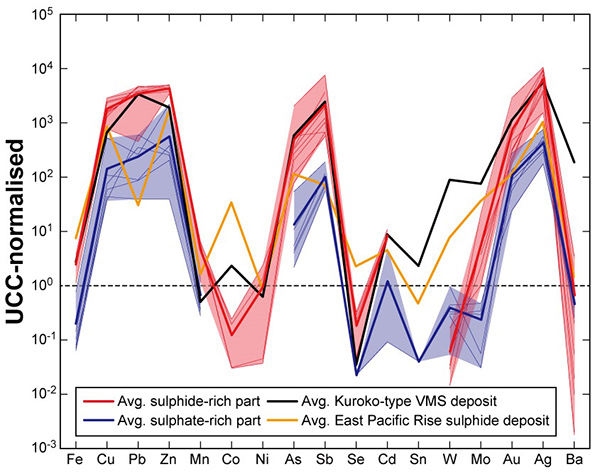 Figure 5: Composition of infant chimney. UCC (upper continental crust)-normalized patterns of sulfide-rich and sulfate-rich infant chimneys together with an average Kuroko-type VMS (volcanogenic massive sulphide) deposit on land and East Pacific Rise sulfide deposit.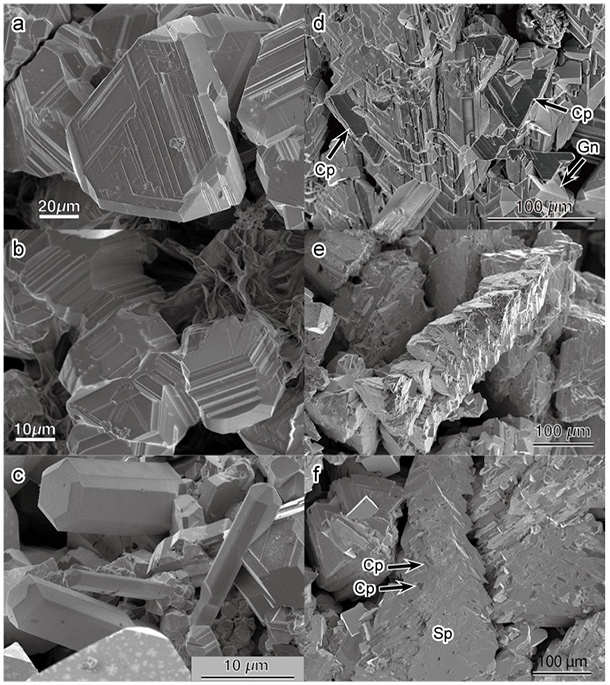 Figure 6: Scanning Electron Microscope (SEM) images of mineral occurrences and textures in sulfide-rich infant chimneys from artificial hydrothermal vents.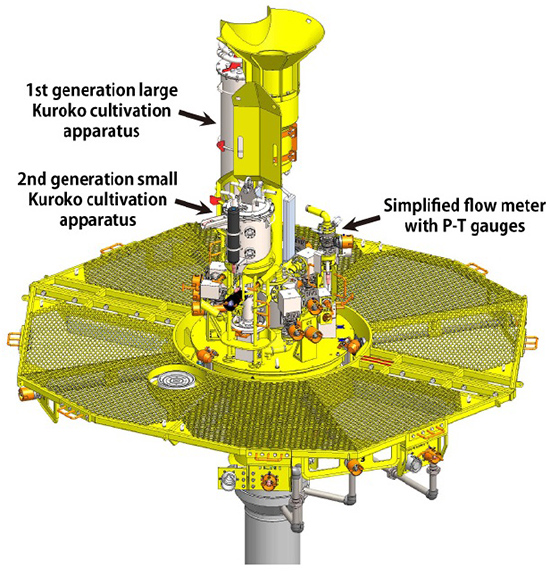 Figure 7: Conceptual diagram of the Kuroko-ore cultivating device currently under development in collaboration with Research and Development (R&D) Center for Submarine Resources and Center for Deep Earth Exploration (CDEX) at JAMSTEC.