May 16th, 2023
Japan and France Collaborate to Deploy Next-Generation Underwater Observation System in the South Pacific
In early May, the Japan Agency for Marine-Earth Science and Technology (JAMSTEC) and Institut Français de Recherche pour l'Exploitation de la Mer (IFREMER) (French Research Institute for Exploitation of the Sea) jointly installed a next-generation underwater observation system in the Coral Sea seamounts south of New Caledonia. The installation will pave the way for developing interdisciplinary deep-sea observation devices in the future.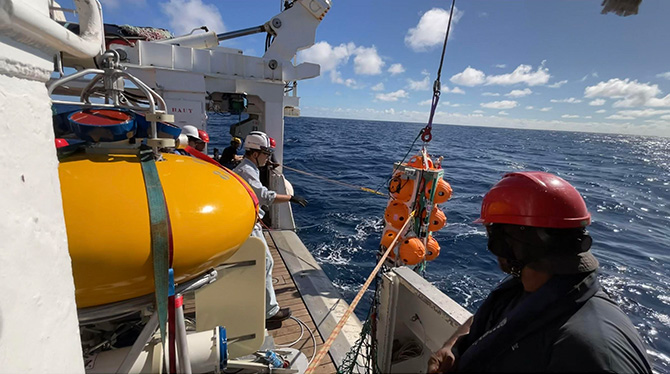 Deployment of "Edokko Mk I" Lander - IFREMER/KASEAOPE-1(2023)
From 4 to 8 May, JAMSTEC and IFREMER conducted the KASEAOPE Cruise in the Coral Sea off New Caledonia, embarking on the expedition with R/V "Antea" to install a next-generation marine observation system. JAMSTEC's seafloor observation device "Edokko Mk I" and IFREMER's mooring system were installed on the Seamount "Stylaster". Both institutions have been collaborating to establish a next-generation underwater observation system to study the oceanographic and biological dynamics of the seamount in an interdisciplinary and long-term manner. By integrating equipment from JAMSTEC such as environmental DNA samplers and biological colonization boards with camera system into the mooring system, in addition to "Edokko", the project will focus on monitoring seasonal fluctuations and surveying biology populations. This system is designed to provide valuable data on the marine areas to New Caledonia communities. Additionally, the project is at the core of the "One Ocean Network for Deep Observation (OneDeepOcean)" program under the United Nations Decade of Ocean Science and is aligned with its goals. For more information, please visit the link provided.
contacts
For press release

Press Office, Marine Science and Technology Strategy Department, JAMSTEC
Inquiry Form