February 28, 2008
The Japan Agency for Marine-Earth Science and Technology

Research on Collision between MSDF DDG ATAGO and a fish boat SEITOKU MARU
-Object found during the search operation
by the Research Vessel NATSUSHIMA- (1)
The Remotely Operated Vehicle HYPER-DOLPHIN spotted a manmade object during the research on the collision between MSDF DDG ATAGO and a fish boat SEITOKU MARU being carried out by the Research Vessel NATSUSHIMA belongs to the Japan Agency for Marine-Earth Science and Technology (JAMSTEC; Mr. Yasuhiro Kato, President).
About objects
(1) Location :

Location : North Latitude 34.31, East Longitude 139.49, Water depth 1,845m (Please refer to Fig.1)

Photographed date and time

: 10:39 February 28, 2008
JAMSTEC provided the information immediately to the Ministry of Education, Culture, Sports, Science and Technology (MEXT) and we heard that the MEXT provided the information to the Crisis Center in the Prime Ministerís Office, the Japan Coast Guard and the Ministry of Defense. Currently, we have not informed if the Japan Coast Guard makes any decision about relation between the found object and the accident.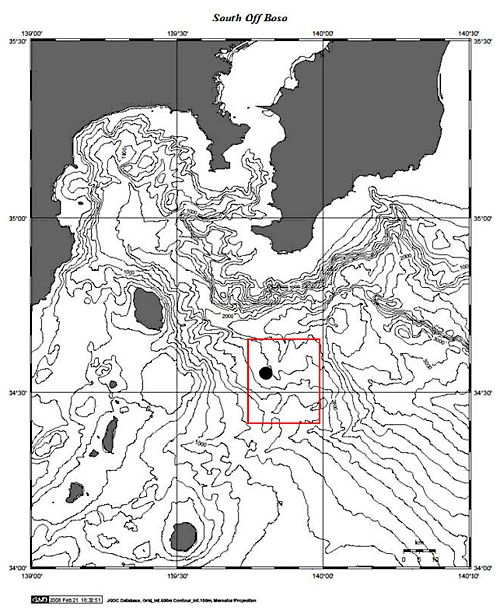 Fig.1 Research Area


: location of the object spotted and photographed


: research area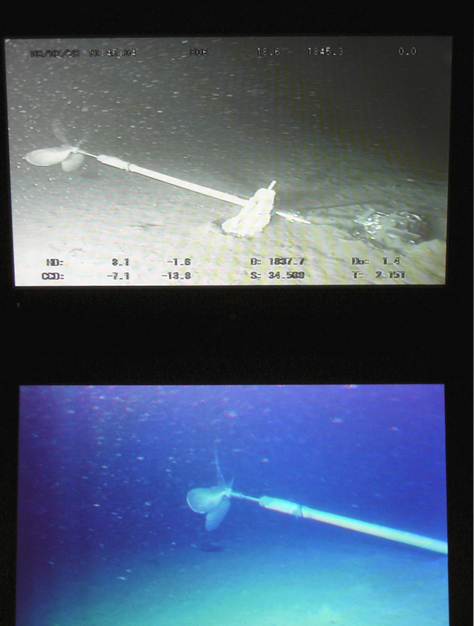 Photograph 1: nd object - approximately 3m long
(North Latitude 34.31, East Longitude 139.49, Water Depth 1,845m)
Images of display screens on-board NATSUSHIMA taken by a digital camera.
Upper: image with CCD camera Lower: image with HDTV.