October 15, 2008
Japan Agency for Marine-Earth Science and Technology
Open House of
The Oceanographic Research Vessel MIRAI
At Onahama Port
Japan Agency for Marine-Earth Science and Technology (JAMSTEC: Yasuhiro Kato, President) is pleased to announce that the Oceanographic Research Vessel MIRAI will be open for public at Onahama Port in Iwaki City, Fukushima Prefecture.
To mark this event, the special lectures will be delivered on the research results about climate change in Japan influenced by the Arctic Ocean and material circulation in the North Pacific Ocean.
MIRAI Open House
1. Date and time:
Sunday, November 9, 2008 10:00~16:00
(End of registration: 15:30)
2. Venue:
No.3 and 4 Berth of No.2 Warf, Onahama Port (MAP)
(50, Onatatsumi-Cho, Iwaki City, Fukushima Prefecture)
3. Admission:
Free (Pre-registration is NOT required)
4. Hosts:
Japan Agency for Marine-Earth Science and Technology, Iwaki City
5. Sponsors:
Onahama Port Office, Tohoku Regional Bureau of The Ministry of Land, Infrastructure and Transport / Fukushima Prefecture / Aquamarine Fukushima / Iwaki Lalamew / Onahama Bishoku Hotel / Onahama Town-making Citizen Conference / Utilization and Promotion Council for Onahama Port of Fukushima Prefecture
6. Precautions:
1) The event may be cancelled due to the bad weather or other factors.
2) For safety reasons, people who are wearing high-heels or sandals, under the influence of alcohol are not allowed, since the floors are not even and slippery inside of the ship.
3) Children under 12 must be accompanied by an adult.
Special Lecture
1. Date and time:
Sunday, November 9, 2008 13:00~15:00
2. Venue:
Onahama Shiome Koryukan (refer to the map)
(43-9, Onatatsumi-Cho, Iwaki City, Fukushima Prefecture)
3. Lecture:

"MIRAI's Arctic Ocean Cruise Report"

Tomohito Yonemoto
(Public Relations Division, Marine-Earth Data and Information Department)

"Change in Arctic Ocean Causes the Climate Change in Japan"

Akiharu Honda
(Frontier Research Center for Global Change)

"Seek the Future in Ocean: Global Warming and CO2 and Ocean"

Makio Honda
(Institute of Observational Research for Global Change)

4. Admission:
Free (Pre-registration is NOT required)
5. Hosts:
Japan Agency for Marine-Earth Science and Technology, Iwaki City
6. Sponsors:
Onahama Port Office, Tohoku Regional Bureau of The Ministry of Land, Infrastructure and Transport / Fukushima Prefecture / Aquamarine Fukushima / Iwaki Lalamew / Onahama Bishoku Hotel / Onahama Town-making Citizen Conference / Utilization and Promotion Council for Onahama Port of Fukushima Prefecture
Commemorative Event
1. Date and time:
Sunday, November 9, 2008
Hydraulic Pressure Experiment 10:30~11:00
Paper Craft Class 11:00~12:00
2. Venue:
Onahama Shiome Koryukan (refer to the map)
(43-9, Onatatsumi-Cho, Iwaki City, Fukushima Prefecture)
3. Admission:
Free (Pre-registration is NOT required)
*First 100 applicants can participate in and applicants must be in fifth grade of elementary school or older.
4. Hosts:
Japan Agency for Marine-Earth Science and Technology, Iwaki City
5. Sponsors:
Onahama Port Office, Tohoku Regional Bureau of The Ministry of Land, Infrastructure and Transport / Fukushima Prefecture / Aquamarine Fukushima / Iwaki Lalamew / Onahama Bishoku Hotel / Onahama Town-making Citizen Conference / Utilization and Promotion Council for Onahama Port of Fukushima Prefecture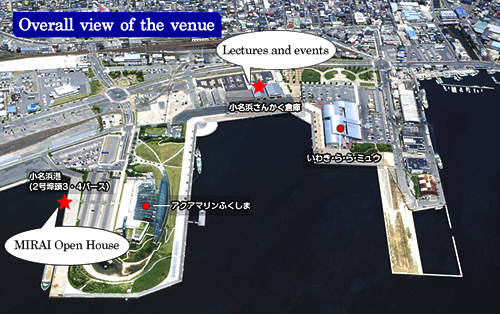 By car
20 minutes by taking the Iwaki-Yumoto exit from the Joban Highway
20 minutes by taking the Iwaki-Nakoso exit from the Joban Highway
By train
15 minutes by car from Izumi station of JR Joban Line
By highway bus (departing from Yaesu exit of Tokyo Station)
5 minutes walk from Aquamarine Park bus stop