The Deep-sea Drilling Vessel Chikyu operated by the Japan Agency for Marine-Earth Science and Technology (JAMSTEC: Yasuhiro Kato, President) has been under repair and replacement work for damaged gears of six Azimuth Thrusters (360º swiveling propellers used to maintain ship's position during drilling operations) since last October in Sasebo Shipyard, Sasebo Heavy Industries Co., Ltd in Sasebo City, Nagasaki Prefecture, Japan and at Rokko Island, Port of Kobe, Kobe City, Hyogo Prefecture, Japan, which is expected to be completed on February 14th.
The Chikyu will set sail from Port of Kobe on February 15th or 16th and the repair work will be completed after confirming thrusters' function in several tests to be carried out in Osaka Bay and Suruga Bay.
Following the trial tests, operational trainings of equipment and tools will be carried out until early May for forthcoming IODP (* Integrated Ocean Drilling Program) scientific expedition to be recommenced in May.
In addition to the operational trainings, safety-purpose site surveys will be conducted at Kumano Basin, off the coast of Kii Peninsula, Japan in early March.
After completed the operational test and trainings, the Chikyu will call at Shingu Port, Shingu City, Wakayama Prefecture in early May to load materials and recommence the IODP expedition for the Nankai Trough Seismogenic Zone Experiment (NanTroSEIZE).
Chikyu operation schedule:
until February 14th, 2009
Repair work at Rokko Island, Port of Kobe, Japan
February 15th, 2009
Public open at Port of Kobe and preparation for next cruise
February 15th or 16th, 2009
Set sail from Port of Kobe
Functional tests in Osaka Bay and sail to Suruga Bay in Japan
February 19th to early May, 2009
Functional tests followed by operational trainings in Suruga Bay (Safety-purpose site surveys at Kumano Basin in early March)
Early May, 2009
Port call at Shingu Port and load equipment and materials
Around May 10, 2009
Set sail from Shingu Port to recommence the Nankai Trough Seismogenic Zone Experiment (NanTroSEIZE)
* Integrated Ocean Drilling Program (IODP)
The Integrated Ocean Drilling Program (IODP) is an international marine research drilling program dedicated to advancing scientific understanding of Earth by monitoring and sampling subseafloor environments. Through multiple platforms, preeminent scientists explore IODP principal themes: the deep biosphere, environmental change, and solid earth cycles. IODP has started since October 2003 funded jointly by the Ministry of Education, Culture, Sports, Science and Technology of Japan and the U.S. National Science Foundation; with additional support provided by the European Consortium of Ocean Research Drilling; the People's Republic of China, Ministry of Science and Technology, and the Republic of Korea through the Korea Institute of Geoscience and Mineral Resources. IODP now has 21 member countries.
Appendix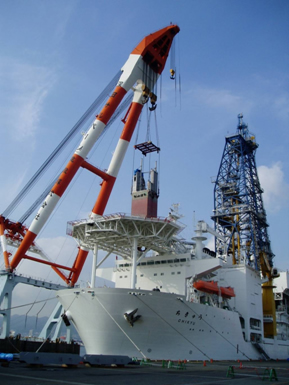 Pic.1
Installation of the Azimuth Thruster (approximately 250 tons), which gears were replaced, to the Chikyu through the opening of Helicopter Deck. Procedure was same for 4 Azimuth Thrusters. Other 2 at the stern had been installed at the Sasebo Shipyard.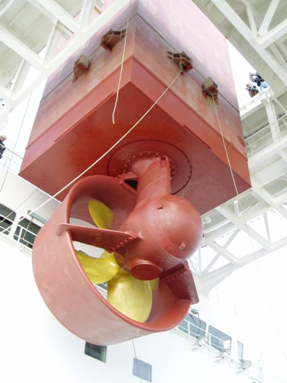 Pic.2:
The Azimuth Thruster coming down through the opening of Helicopter Deck