The Japan Agency for Marine-Earth Science and Technology will be hosting the sixth seminar in the "Ocean and Earth Institute" series as described below. The seminar is designed to increase public understanding and interest in marine earth science and technology by introducing JAMSTEC's latest research findings and achievements in an approachable and comprehensive manner.
The sixth seminar in the series, titled "JAMSTEC: Connecting Ocean and Earth", will take place in collaboration with the Sendai City Board of Education. It will highlight three major facilities at JAMSTEC; the manned research submersible "SHINKAI 6500", Deep Sea Drilling Vessel CHIKYU, and the Nation's most powerful super computer, "Earth Simulator". Topics will also cover the science accomplishments they have made, regarding deep sea environments, the Earth's interior and global environmental changes.
An event for children, "Kids Science Park", will also be held. It will offer talks and hands-on experiments about deep sea exploring, earthquake investigations and research vessels. Miniature models of the above facilities will be on display.
Description
1.Date and time
:
Sunday, March 14, 2010 13:00-16:15 (Admission starts at 12:30)
2.Venue
:
Sendai Science Museum(Please refer to the Map)
3.Admission
:
Free to attend, but pre-registration is required.
4.Program
:
For the program and speakers, please refer to the Appendix (in Japanese)
5.Hosts
:
Japan Agency for Marine-Earth Science and Technology (JAMSTEC)
Sendai Science Museum
6.Sponsor
:
Ministry of the Education, Culture, Sports, Science and Technology (MEXT)
7.Target audience for the seminar
:
High school students and above.
8.Application
:
Please register through the JAMSTEC's website (http://www.jamstec.go.jp/j/pr/pr_seminar/index.html), or send a double post card to the following address with your name, address, phone number and the number of participants.

Mailing address: "Ocean and Earth Institute Seminar" Sendai Science Museum 4-1, Dainohara-Shinrinkoen, Aobadai, Sendai City, 981-0903

Registration due on: Friday, February 26, 2010 (by post card) Friday, March 12, 2010 at 17(online) Seats are limited to the first 400 people.
9.Kids Science Park
:
Time: 10:00 - 16:45
Target: elementary and junior high school students. No registration is required.
*The lectures will be delivered in Japanese.
Map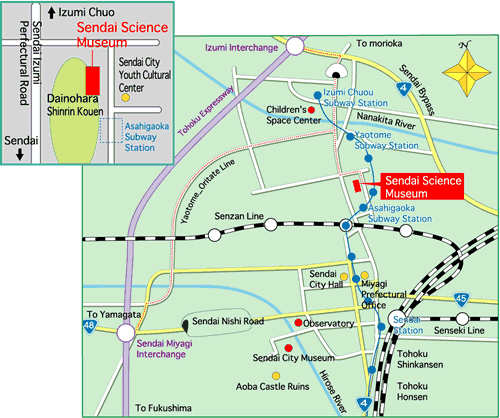 Sendai Science Museum (Sendai Kagaku Kan)
4-1, Dainohara-Shinrinkoen, Aobadai, Sendai City Tel:022-276-2201
By subway:
5-minute walk from Asahigaoka Station on Sendai Municipal Subway (10-minute ride from Sendai Station)
By bus:
2-minute walk from the Sendai Kagaku-kan Mae bus stop
By car:
20-minute drive from Sendai-Miyagi I.C., or 20-minute drive from Izumi I.C.,Tohoku Expressway
Appendix