Order
General procedure:
To produce a quotation, please provide us with following information by e-mail.

Buyer's name (Institute/organization):
End user (if applicable)
Business address (please provide street address)
Person's name
Phone no: (+country code- area code - number)
Fax no:
Ship to (contact person):
Shipping address (please provide zipcode):
Phone no:
Lot and number of bottles
Billing address:
Billing phone no:
Can payment be done by CREDIT CARD? And before delivery? Yes or No.

We will send you a quotation with shipping cost (local duty/tax not included) and order form.
After confirming the quotation price, please send the order form that will require buyer's signature by e-mail attachment.
After receiving the signed "order form",we will send payment request by e-mail.
Buyer shall pay the price at one-time in Japanese Yen by only credit card.*
Buyer shall access to the URL identified in the payment request and shall complete all the required fields to make the payment.
We will ship the product within 10 days after payment confirmation.
*Available credit card:VISA,Master,JCB
Terms and Conditions [PDF]
Sample "Order Form" [PDF]
Flow of fare-paid distribution of CRMs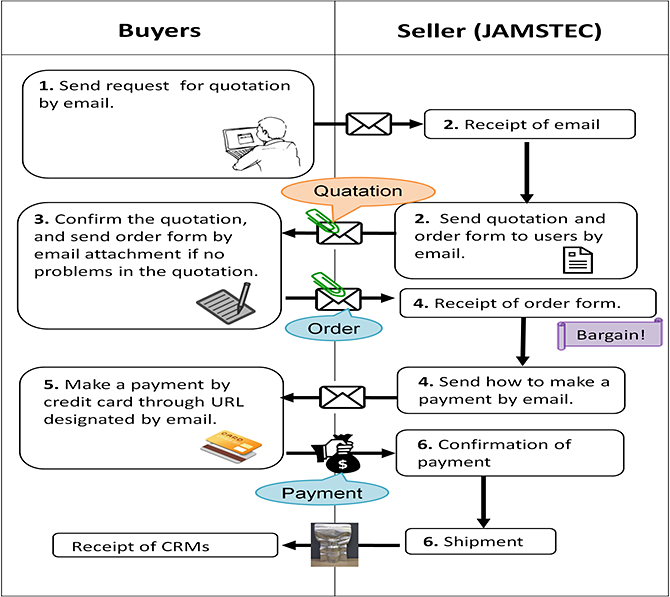 All personal information collected will be used only for provide Nutrient CRM's purposes. The information will be kept confidential and treated carefully and appropriately in accordance with JAMSTEC's privacy policy.