What is Namazu?
April 4, 2012

According to Japanese mythology Namazu is a giant catfish that lives in the mud beneath the islands of Japan. Namazu is restrained by the god Kashima but when Kashima lets down his guard Namazu moves and the result is an earthquake. On March 11, 2011 during the Tohoku earthquake Namazu moved a lot.


Now one year later IODP expedition 343 - Japan Trench Fast Earthquake Drilling Project (JFAST) has set off to study the Tohoku subduction zone on the deep sea scientific drilling vessel Chikyu. The water depth where we will be drilling is 6910 meters below sea level. Chikyu will drill as much as 1000 meters below the seafloor to reach the fault zone. Drilling has never been done to such depths before. We will measure fault zone physical properties, recover material from the fault zone, and record the temperature anomaly that resulted from frictional slip during the Tohoku Earthquake. From this information we will learn more about the fault zone and why it slipped.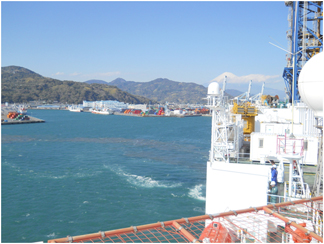 Leaving land behind and heading to the drill site located off the Oshika Peninsula.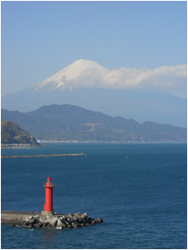 View of Mount Fuji from the heli deck