Earning My Sea Legs
April 13, 2012
Today marks the end of my journey on Chikyu. As a land lover, I wasn't sure what to expect when I boarded (or even if the motion sickness medicine would work). I leave now surprised at how fast the time has passed and amazed at the brilliant scientists and crew working to make the expedition a success.


I was on Chikyu to assist with expedition-related education and outreach activities. Upon arriving, we were immediately given a crash course about life on a ship ? from meal times to evacuation procedures. We were assigned rooms and safety gear, and laboratory training started soon after. In no time, the science party ? composed of scientists from 10 countries ? started getting to know each other and sharing their excitement and thoughts about the work ahead.


The science party is only part of the Chikyu story. The ship operates with an impressive crew of about 150 people that includes everyone from roughnecks on the drill floor to cooks in the galley. The crew has been extremely kind and generous, making everyone feel at home. Dennis keeps us safe, Alex found the perfect safety goggles to fit over my glasses, and Romeo prepares delicious meals. During the typhoon-like storm last week, I was stuck in bed (the meds can only do so much), and to my surprise the crew left fresh towels by my door for when I was feeling vertical again.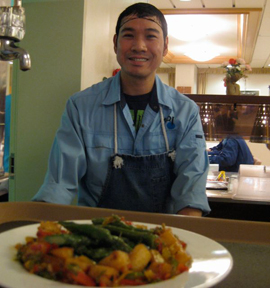 I'm a bit disappointed to leave the expedition now, just as the activity is really getting started, but I'm looking forward to hearing more about the rest of the JFAST journey.