Collaboration with the Smithsonian Institution for "Ocean Portal"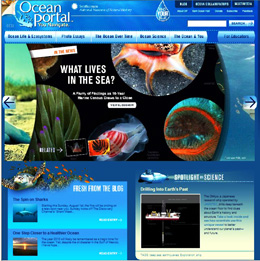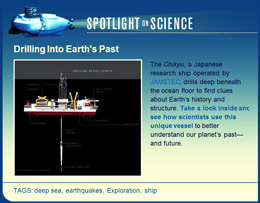 Since September 2008, a model of the deep earth drilling research vessel "CHIKYU" and narrated videos of scientific drilling technologies and onboard research activities have been displayed at "Sant Ocean Hall" in the National Museum of Natural History (NMNH), Smithsonian Institution in the District of Columbia (Washington, D.C.), United States. Amongst more than twenty collaborative organizations, JAMSTEC has participated in a website, "Ocean Portal," generated by the museum as a part of its endeavors.
Introducing not only our "CHIKYU" but also manned research submersible "SHINKAI 6500" and other vehicles, the Ocean Portal literally serves as "a portal of the oceans" and educates/entertains visitors of all ages with contents enhancing their interests in and knowledge of the oceans. By visiting the website, even those who live inland may be able to remotely experience the atmosphere as if they were at the shores of the oceans.
In addition, NMNH has about 6 million visitors annually and is a major tourist site in Washington D.C. as one of the most popular museums of the Smithsonian Institution. It opened in 1910 and has exhibited a collection of about 126 million items from natural science, world culture, geology, mineralogy, and many more fields.
Even if you do not have an easy access to or chance to visit NMNH in Washington, D.C., the Ocean Portal will enable you to feel like exploring the museum in its atmosphere.