Hello! Welcome to the Chikyu page!

It's my great pleasure to introduce you to Chikyu!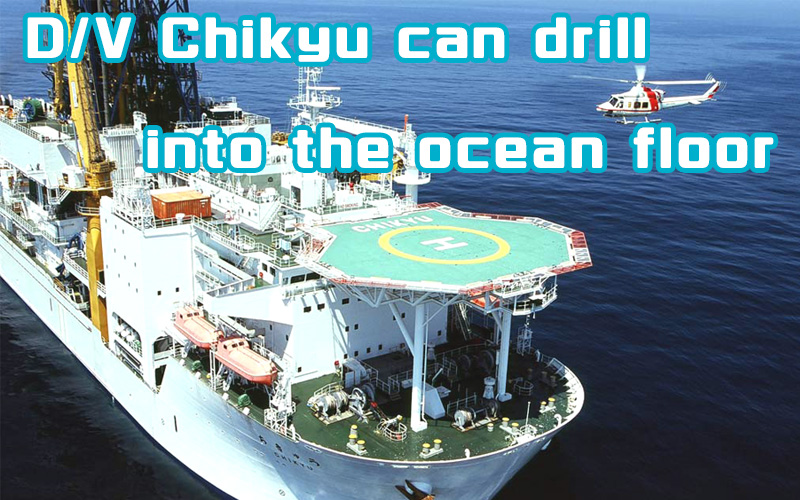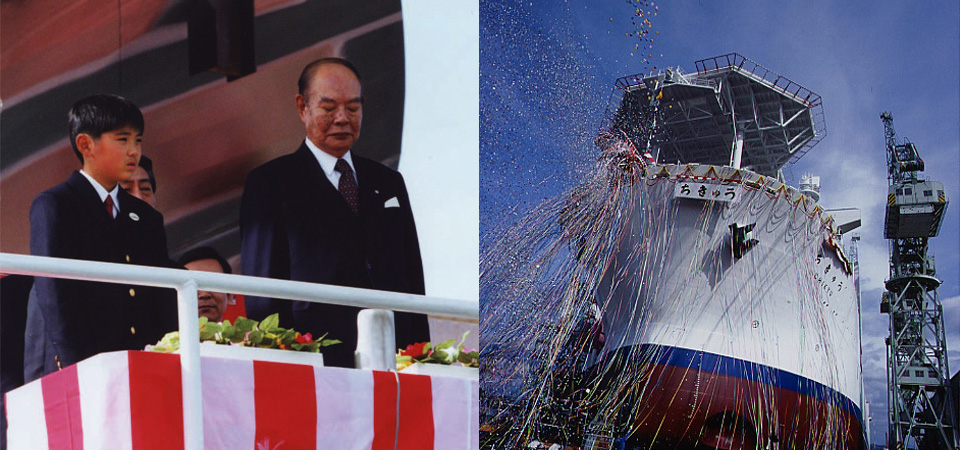 Chikyu came to JAMSTEC on 29 July 2005. JAMSTEC is a Japanese research institute dedicated to studying the Earth and the Ocean. Chikyu was named by a elementary schoolchild, who won a national campaign to name the new ship. She named the new ship "Chikyu" (Japanese for "The Earth") because the new ship was designed to investigate and make new discoveries about the Earth.
The people who work on Chikyu "commute" by helicopter! Because safety is so important, everyone onboard wear protective gear (helmet and coveralls) in all the work area of the ship.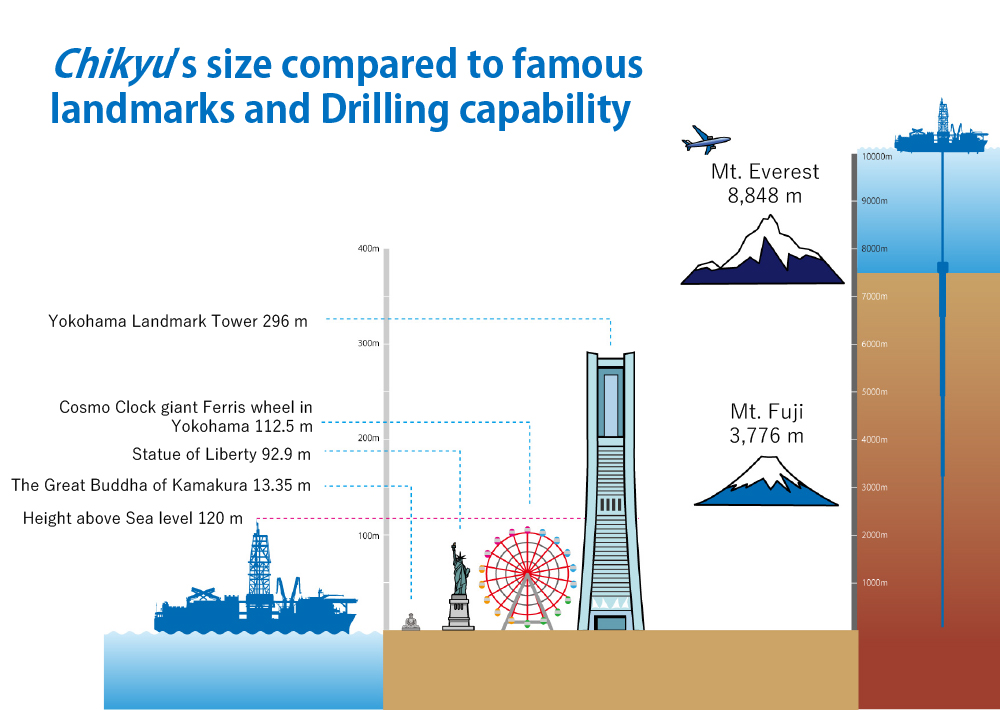 We will try to compare Chikyu's dimensions by using familiar items or landmarks:
Length: 210 m is about equal to 8 Bullet train cars or as long as 8 tennis courts.
The tall blue derrick is more than 130 m from the bottom of Chikyu, just as tall as the Great Pyramid of Giza, and 120 m above the sea surface. Why does Chikyu have such a tall derrick system? This is to help with deeper and deeper investigation of the Earth.
The drill pipes total 10,000 m in length on Chikyu. In general, there are three different kinds of "pipe" used aboard Chikyu. The most common is the regular drill pipe, each about 9.5 m long. Next is the specialized Riser Pipe, each about 27 m long. Riser pipe is used in riser drilling, and create a continuous connection from the ship to the sea floor and below. Finally, we have casing pipe, which is used to protect the borehole from collapse.

Q3. How deep can Chikyu drill?
This is "Mission Control" for all the drilling operations on Chikyu. Digital screens displaying all kinds of data from the tools and equipment down the borehole, camera views of all essential ship areas, and joystick controls for manipulating all this equipment, makes for an impressive location.

Drilling capability is more than 10,000 meters from the ship – this allows Chikyu to drill in the deeper portion of the open ocean. This is equivalent to 2 or 3 x deeper than Japan's Mt. Fuji! All the drilling is made possible by the various drill bits, each designed to work best in specific types of sediment or rock. Here are some of the different shapes and sizes of drill bits – all absolutely necessary to get these boreholes drilled!

Chikyu can drill into the sea floor and take samples of sediments and rock, using special coring bits. These take these samples in long cylinders filled into core liners and pulled by a wire back up to the ship, onto the rig floor.
Once these core samples, or cores, are onboard, they are moved to the shipboard laboratory, where researchers can analyze rock samples' feature, description, color, shape and hardness.
Chikyu is a floating state-of-the art technology laboratory. Chikyu is so big that you hardly ever feel any motion or swaying, as people usually do aboard ship. This stability lets CDEX place precision instruments in the laboratory. Chikyu has a staff of experts aboard, all ready to help with drilling, data analysis, how to maintain equipment and instruments. Do you want to know how to make measurements with those instruments? Our team is standing by to help make science happen.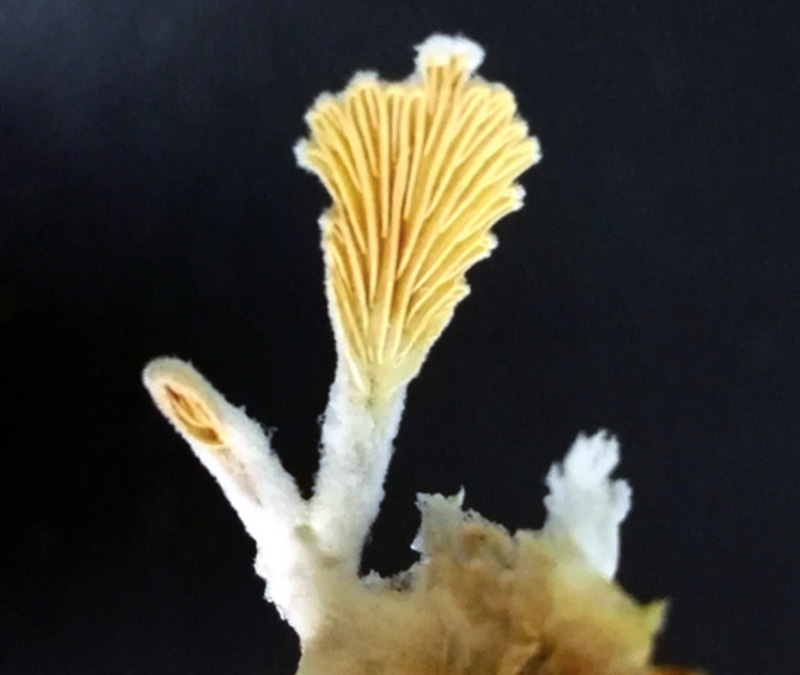 There is life everywhere – even inside deeply drilled boreholes! What an amazing world! Microorganisms, like in these photos exist – not just fossils, but living microscopic organisms in deep core samples. Yes, most of these are far too small to be seen with the naked eye. These "extremophiles" are found in extraordinary environments; without oxygen nor light, under crushing pressure, high temperature (>100 ºC), and oppressive darkness. How deep can we find living organisms in the deep Earth? Mushrooms were grown from 3600 meter deep core samples colletced off the Shimokita peninsula in July 2017! After a 20 Ma (20,000,000) year sleep, these mushrooms were nudged awake ! These cystoid spores were living on land in Siberia 20 Ma (20,000,000) years ago! Since then, the Japanese islands separated from the Eurasian continent, and some of these "Siberian fragments" held cystoid spores while slowly buried and sank deep under water to 2400 m and they survived to this very day! Chikyu recovered these spores in core samples from deep below the ocean floor and these ancient mushrooms return to our world. This is a miracle brought to the world by science!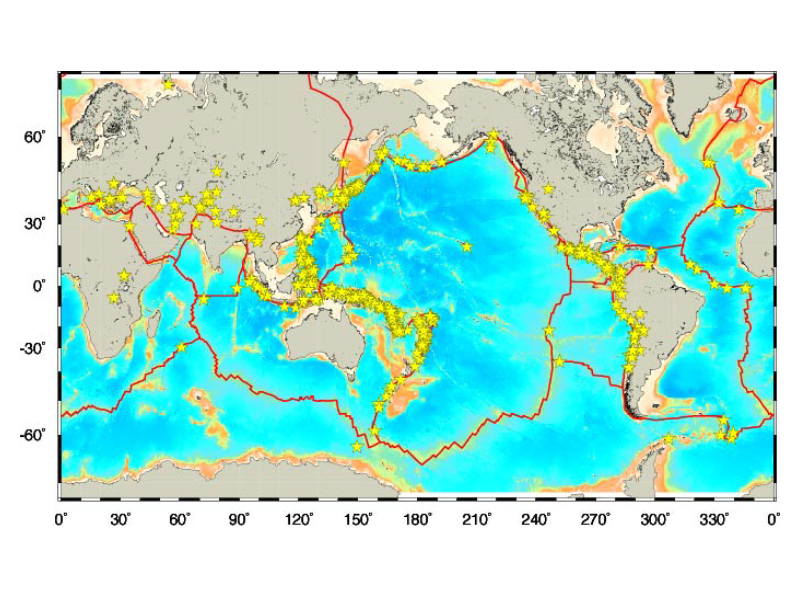 You may know that earthquakes happen every day somewhere around the world! You might not know that for many of these earthquakes, there's a distinct pattern. This Earthquake distribution map of the world shows earthquake epicenters as red dots. You'll notice that most of them occur along plate boundaries, suture zones, subduction zones or along mid-ocean ridges. More than 20% of the earthquakes that occur around world happen with the Japanese islands.
Most big earthquakes occur in the ocean. When an upper plate subducts under another plate, a large earthquake can be generated, and sometimes also a huge tsunami. The world's 4th largest tsunamigenic (tsunami-making) earthquake (Mw 9.1) struck off the Tohoku region on 11 March 2011. While this was a huge earthquake, it's only been 120 years since geophysical observation began.
This is the Nankai Trough, a 4,000 m deep trench region where the Philippine Sea Plate is subducting underneath the Eurasian plate. Periodical large and tsunami-genic earthquakes happen here on roughly 100 – 200 - year intervals.
We still don't completely understand what conditions set off earthquakes, or how some magnify into large ones and others do not. We need to know more about the in-situ conditions, and that's why many seismologists and geophysicists want sail aboard D/V Chikyu. They want to better understand the physics of earthquake initiation. Chikyu can obtain in situ geological samples and geophysical data from deep below the Earth's surface. Please keep an eye on Chikyu to see what comes next!
Chikyu and CDEX are working hard on preparations for the final phase of the Nankai Trough Seismogenic Zone Experiment (NanTroSEIZE) drilling project – over 20 years in the making. Chikyu is also exploring methane hydrates, a new potential energy source. Chikyu is in close collaboration in science research drilling projects with many countries around the world. We're very happy to prepare Chikyu Open ship events and onboard schools for YOU!! We are looking forward to seeing you aboard Chikyu very soon!!!

You want to know more about Chikyu? Why don't you check our website and search for "Chikyu" on the internet? You may find some new "secrets" about Chikyu you never knew before …
Chikyu is working very hard to drill into the "basement" of the ocean floor to learn more our planet of the Earth. Why not join us?
There are a lot jobs you can do aboard Chikyu! Captain, Officer, Deck crew, Steward, Engine engineer, Driller, Oiler, Nurse, System Engineer, Marine technician, Researcher, and much more! What job will YOU do? Looking forward to seeing all of you onboard Chikyu! Cheers!