About Chikyu

Japan wanted to build such a drilling vessel, even after the US kindly opened their drilling vessel to the world for years. Japan wanted to learn by building a brand new, high technology, scientififc drilling vessel using Japanese skill and techniques. While the US ship drills many boreholes in many environments, the Chikyu is designed to focus on one area, drilling as deep a hole as possible.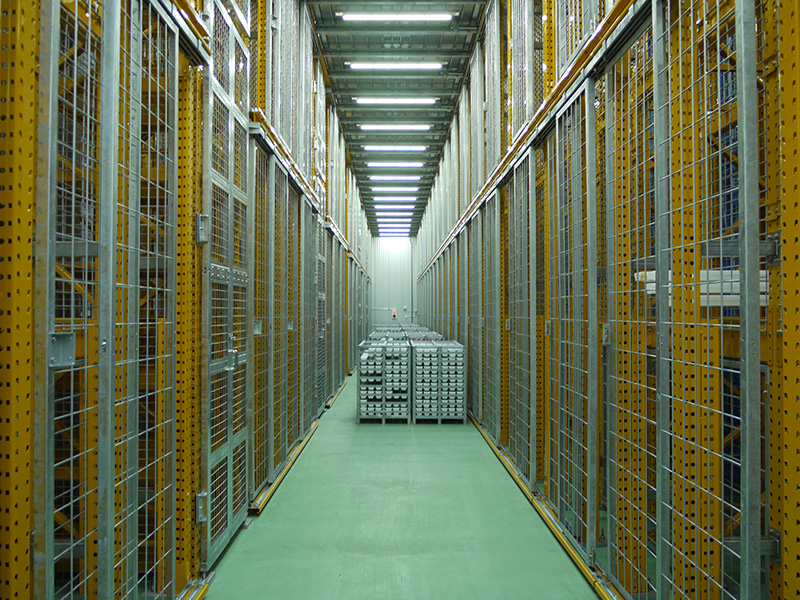 Mantle material, if we collect it in the future, it belongs to all of the world. Much like the rock samples that the Apollo Missions returned from the Moon, mantle samples would be precious materials for all the world. Top priority, however, for these precious samples would go to the onboard Scientists.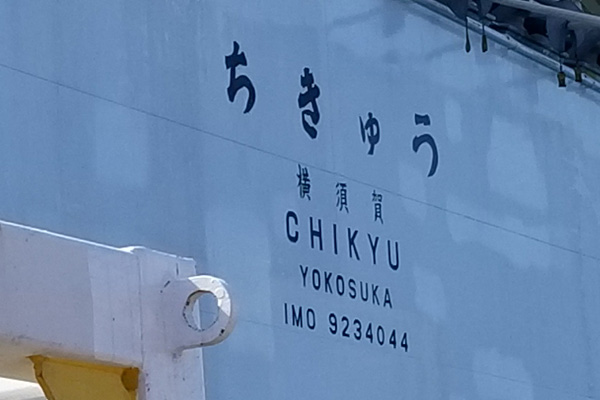 D/V Chikyu's home is the same as JAMSTEC - Yokosuka, Kanagawa Prefecture. However, home port location doesn't matter, as Chikyu is ready to perform scientific research all over the world's oceans. Soon coming to an area near you!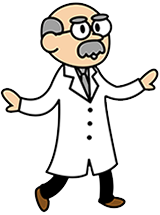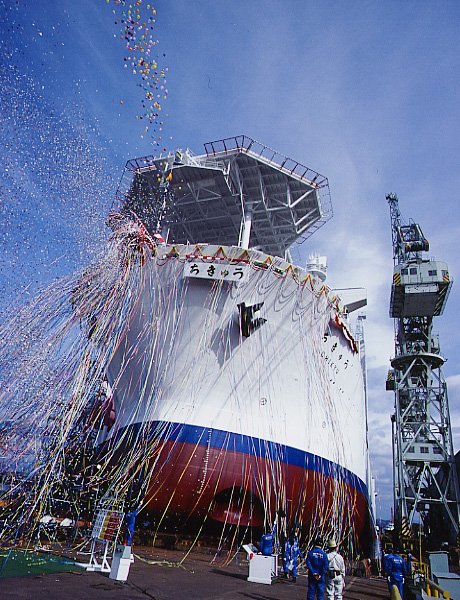 D/V Chikyu construction first began in Okayama Prefecture on 25 April 2001 (Heisei 13). After the hull was completed, other portions like the derrick and laboratory area were added and finally completed on 29 July 2005.


Right now there is room for 200 people. These include people working on jobs like: crew, stewards for cooking and cleaning, drillers for drilling operation, researchers, marine technicians for maintaining lab equipment and instruments. What job do you want to do aboard Chikyu?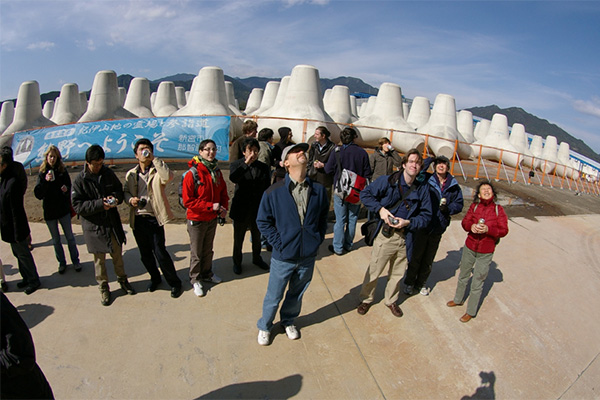 One of the best ways is to become a scientist and access the Chikyu web site looking for opportunities to sail on an expedition. We have a page introducing expeditions and scientist recruitment. Apply sending us the required forms, with approval from your advisor or professor. You can also apply to merchant-marine schools, technical training schools, and then apply to become a member of Chikyu. Most staff and crew aboard Chikyu spend 1 month on duty-1 month off, while working aboard.
About Drilling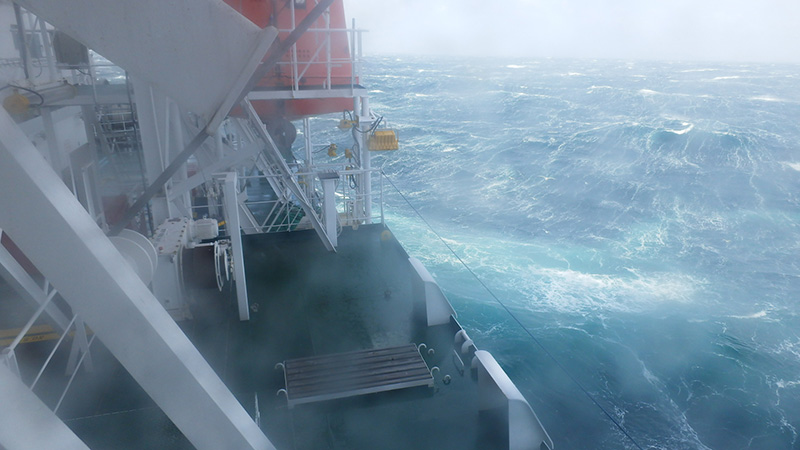 Chikyu was designed to operate in all kinds of conditions, however, we take safety very seriously. Having said that, we have developed safety standards for operating in all kinds of sea conditions. If things get too rough, Chikyu prudently moves to shelter, such as during typhoon passages and the like.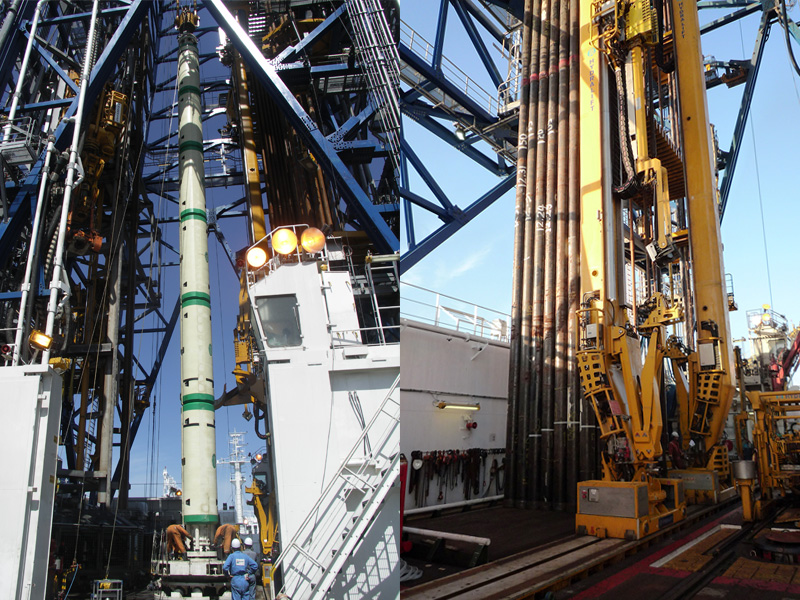 Chikyu has a total of 10 km of drill pipe (10,000 meters) onboard. Therefore, Chikyu can drill 10,000 meters below the ship – however, we also need to consider two things: water depth and riser pipe. Riser pipe is limited to use in water between 500 – 2500 m deep (at the moment), and this allows Chikyu to drill 7500 m below the seafloor.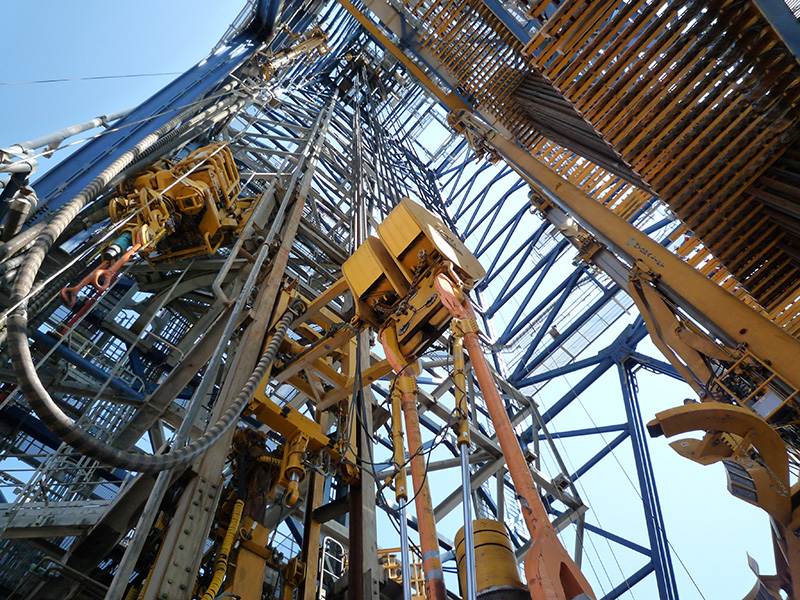 Drilling speed depends on how tough or firm the sediment or rock being drilled is: faster for soft sediments, slow for hard rock. For example, coring 9.5 meters of soft sediments goes almost as fast as cutting cake, but as the sediments harden, it takes more and more time to core and drill. Usually soft muds are found at the seafloor, and as you go deeper, they turn into solid rock. Soft sediments can be drilled at up to 300 m a day, but hard rock can take more than 50 m per day of constant drilling.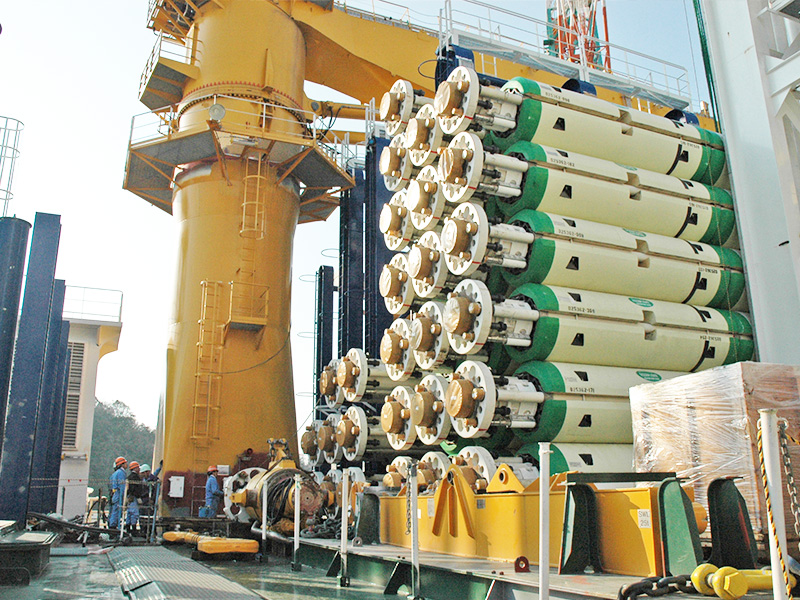 Drill pipes are typically used until they become deformed, severely rusted, or cracked – once this happens, they must be discarded. Drill pipes are constantly being checked and exchanged for new ones, once deficiencies are noted.

Feeding 200 people is no small job – there are 4 meals every 24 hours, since Chikyu operates under a 24-hour schedule. A professional staff prepares buffet-style meals, every 4 hours, using fresh vegetables and fruit delivered by helicopter and supply boat. Good meals on board make for a happy crew and a happy ship.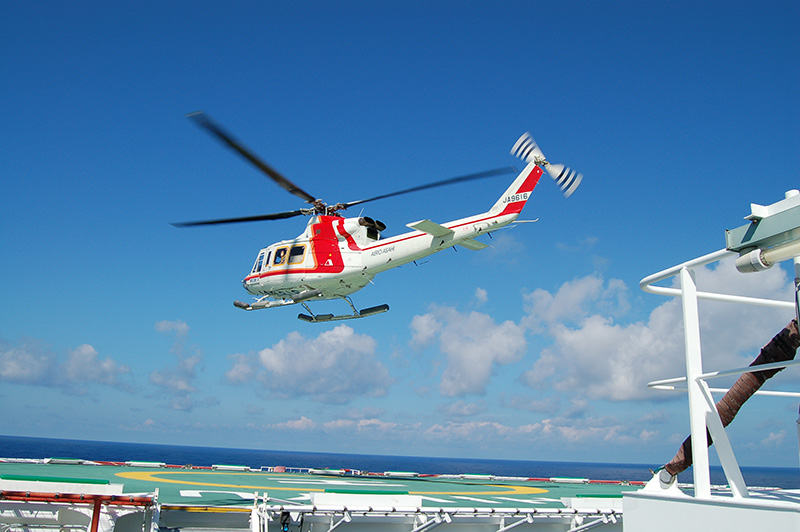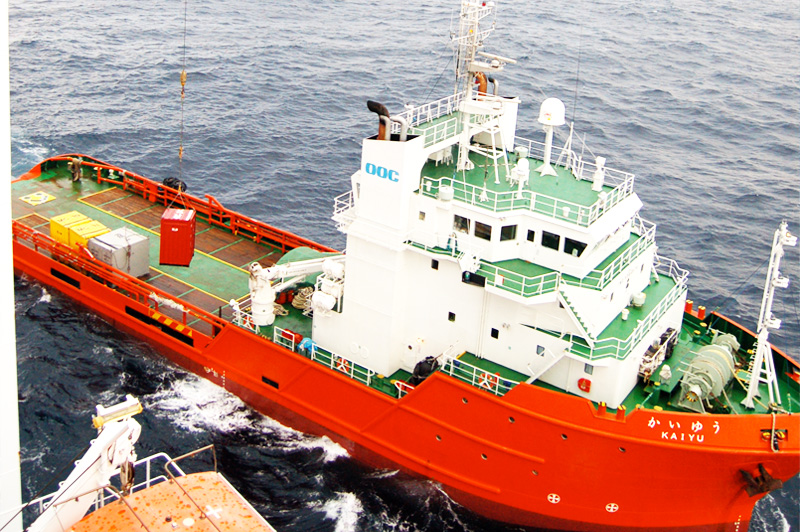 When you played in the sand box as a kid, you saw that digging a deep hole created a lot extra sand. This is even more true as we drill deep with riser drilling. This sand, mud, and rock produced by drilling needs to go somewhere, and the riser drilling system is the perfect way to take care of this. Preventing this material from spilling on the sea floor is important for the environment, but it can all be used for science as well. One key part of this system is the BOP (Blow Out Preventer), which protects the ship and the environment if there happens to be a sudden "push" of gasses or fluids into the borehole. The BOP is like a safety shutoff, and it can close and keep great pressure from gushing out, up through the riser pipe, onto the ship and into the ocean.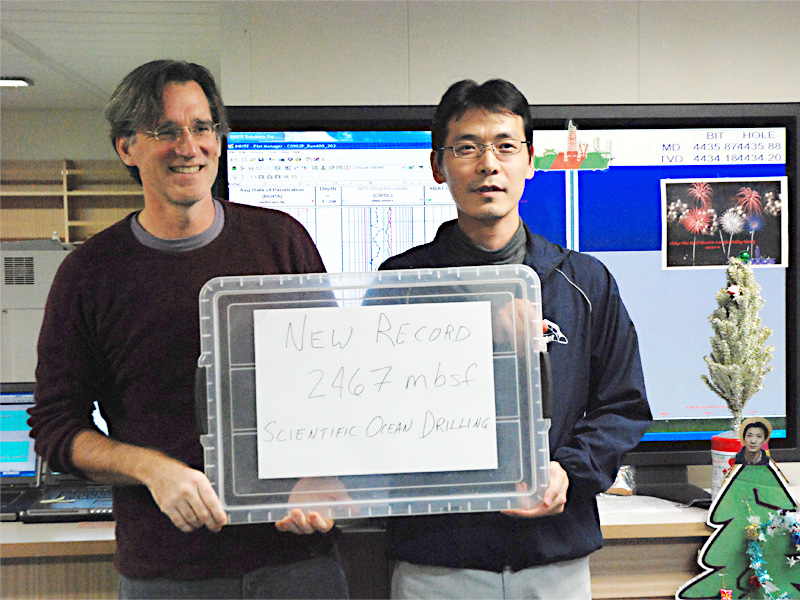 In January 2014, Chikyu drilled the deepest borehole, 3,058.5 meters below the sea floor, in the Nankai's Kumano Basin. The Kumano Basin is just off the southwestern coast of Honshu, the main island of Japan. The water depth is 1,939 meters, so the total pipe length from the drilling floor of Chikyu to the bottom of the borehole was 5,026 meters.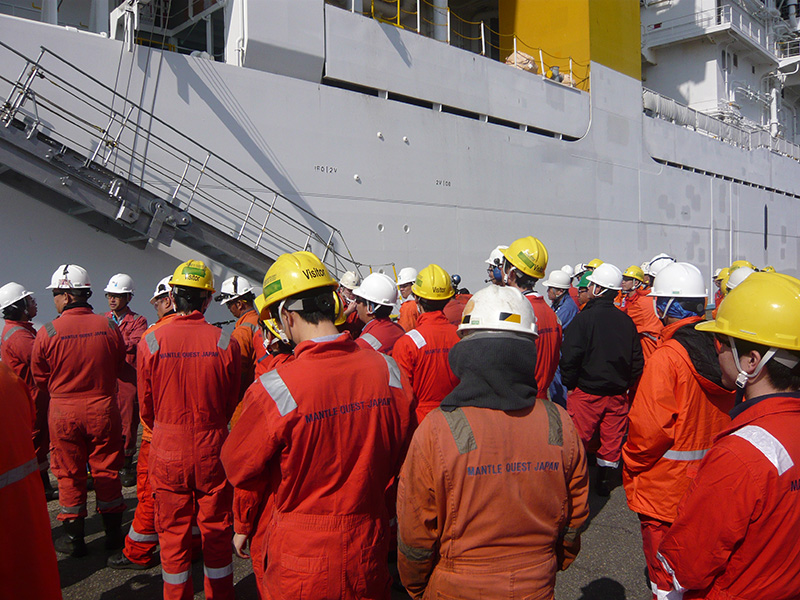 I can't speak for others, but the important motto aboard is "Safety First!" Anyone, during any job, can call a halt to work if they see something is unsafe. We need to keep aware and approach every job knowing the risks and preparing for them. You also need to look after yourself, make sure you get plenty of rest, eat well, and don't push yourself. When people are tired and low on energy and concentration, this is when accidents happen.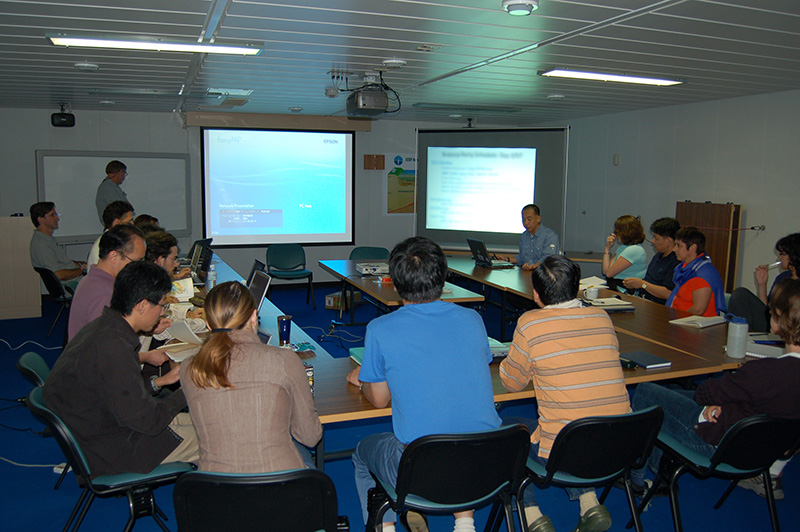 Each potential drill site is the result of years of preparation. The original location is picked to examine a scientific question, and that site is carefully examined to make sure that the science goals are realistic, appropriate, and drillable. Several international committees carefully review proposed drill sites for safety, while other committees check the science goals. In the case of the Nankai Trough Seismogenic Zone Experiment (NanTroSEIZE), about 10 years passed between being first proposed until actual drilling began.
About Science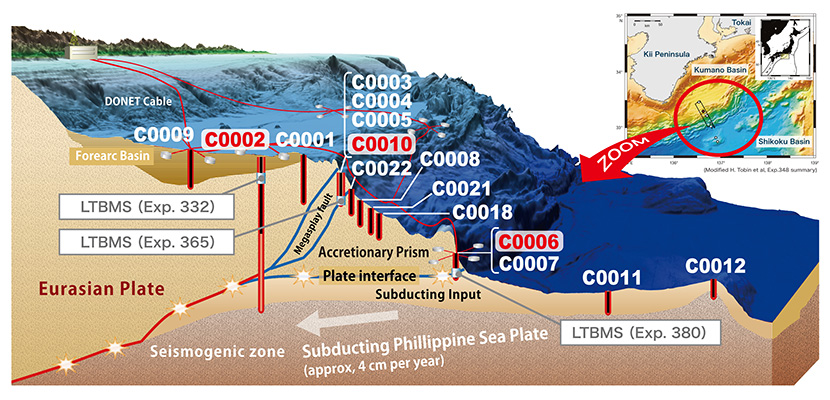 The holes that Chikyu drilling makes are similar to making holes with a needle in a gym-sized rubber mat. Although in person, drilling is very impressive, the overall effect is essentially zero. These are not nearly enough to have any effect on the deep underground pressures and energy stored in the deep Earth.

Yes! Even though Chikyu is a very big ship (>200 m long), after a long time at sea, it can feel very small! Living together in close quarters can be hard in any situation, so that is why Chikyu provides some facilities for relaxing – there is a cinema room, with table tennis, a gym, a sauna and a Jacuzzi. There is a library and breakroom, and some special facilities for the working scientists. Getting outside on the Helideck (in good weather) is a great way to get fresh air and to stretch your legs, seeing the sunrise and sunsets can be beautiful. You can practice calligraphy (see photo), and celebrate Xmas, New Year, Halloween, Easter and birthday parties (sorry – no alcohol!)! This is a great opportunity to live and work with scientists and experts from all over the world – so take a chance at a great opportunity and join us aboard!