Working in JAMSTEC – experience from a foreign scientist
2017/11/16
Profile
Yu-Lin (Eda) Chang, a scientist in Application Laboratory, starts her work in Japan since August 2017. I obtained my Ph.D. in 2011. In 2012, I joined National Taiwan Normal University as a faculty member and was promoted to be the associate professor in 2016. I had worked at Princeton University as the senior scientist specialist from 2009-2011, and as a visiting scientist at Dalhousie University from 2015-2016.
2011 in Princeton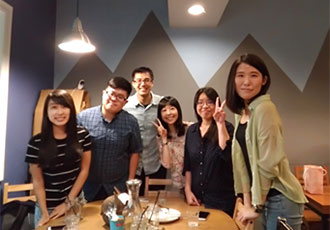 2017 last group lunch with my students in NTNU
Be an oceanographer
It was not my original plan actually, but I am glad that I become an oceanographer. There is a nice Japanese sentence fit my story well:人生は出会い.
I planned to be a high school earth science teacher since I was 15. For this dream, I went to the earth science department in NTNU (the best teacher college in Taiwan). We learn atmosphere, oceanography, astronomy, geology, geophysics, and education. Among all subjects, I was especially interested in geology, in which I even got the full score in mineralogy and petrology.
In second year undergraduate, Prof. Wu (an oceanographer) recruited me to his group, with an understanding of my future leaving to be a teacher. He encouraged me to apply and work on an undergraduate research project granted by National Science Council, and told me not to have pressure. He allowed me to try all of my thoughts, even sometimes wild. This undergraduate project, "effect of the typhoon on the Kuroshio," was awarded, on the time when I was preparing to leave for the internship (for being a teacher). Prof. Wu suggested me to continue master degree first, so I decided to stay. It turns out till today, I still did not finish my internship.
Though the story did not follow my original plan, I gradually get really interested in ocean research. There were many unknowns I was curious about, so that I even became a Ph.D. student after that. However, I was originally trained to be a teacher, so that I learned wide knowledge, without going deep. Gradually, my skill and knowledge cannot catch up my thoughts due to the weak background, which made me struggle a lot. Later, I received the study abroad scholarship and joined Prof. Oey's group in Princeton. During the three years stay, he taught me ocean modeling, ocean dynamics, and programming. He also encouraged me to join the international workshop to broad up my view. Without him, I may have gone back to being a teacher. In the international workshop, I met Dr. Miyazawa, who later served as the committee member when I graduated from Ph. D. and is now my supervisor in JAMSTEC.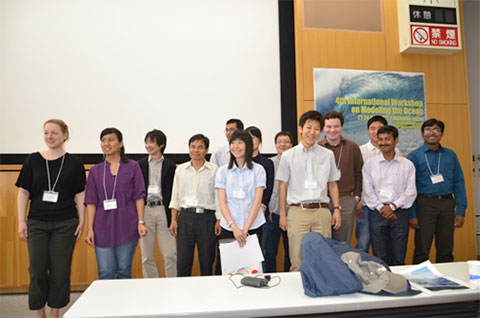 2012 joined IWMO hosted in JAMSTEC
From physical oceanography to bio-physical research
I am a physical oceanographer and had worked on the ocean dynamics from Atlantic to Pacific. Three years ago during my visit to Dalhousie University, a presentation related to observed eel migration attracted my eyes. As marine life lives in the ocean, the physical ocean environment must have a certain degree of impact on it, so I thought I would work on a cross-field topic, but just for one, and for fun. However, my bio-physical research did not stop with the ending of my visiting in Dalhousie. Many unknowns in biological oceanography attract me to explore further, and my physical background can potentially provide a different point of view and may help to understand the long unresolved questions. Therefore, I continue the second work, the third one, and to be continued.
The role of Kuroshio/ocean in Taiwan
Taiwan is surrounded by the ocean, just like Japan. The Kuroshio is especially important for Taiwan. The Kuroshio is believed in bringing rich fishery resource to Taiwan. The recent study considers how to extract power from the Kuroshio. However, our neighbor –Kuroshio can sometimes contribute negatively to Taiwan. Taiwan is located at the frequent typhoon visit path. Most of the typhoon went pass by Kuroshio before landing to Taiwan. The warm moisture Kuroshio provides a favorable condition for the typhoon to strengthen, leading to potential greater destroy to Taiwan.
Life in Japan
My first time in rush hour train entering Tokyo surprised me very much, that was extremely crowded. Life pace in Tokyo is very fast, and people work very very hard and stay late. There is occasionally typhoon visit to Japan, just as in Taiwan. In Taiwan, the day when typhoon land, government announce day off for safety, but it seems there is no such "typhoon holiday" in Japan. Taiwan and Japan both located at earthquake zone. For the same scale of the earthquake, somehow I feel it shakes much larger in Japan. I guess this may be due to different structure of building. Hotels in Japan can sometimes be expensive because it is charged by the number of people, whereas in Taiwan (or the US) it counts for the room. Japan probably has the best supermarket in the world, where you can find fresh ingredient and all kinds of prepared food. Even the convenient store has almost everything we need.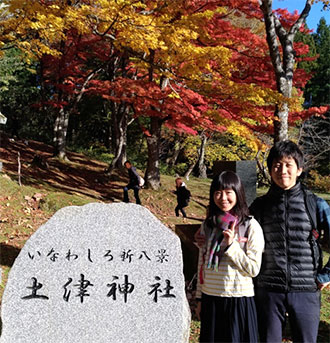 2017 first autumn in Japan
Life in JAMSTEC
I enjoy working in JAMSTEC a lot. My supervisor fully supports my research interests. I can discuss and exchange ideas with colleges. I get the essential facility for my research and also have the technical support whenever I need. Besides, we have a cafeteria here, so you don't need to worry about lunch or even dinner.
How if I cannot speak Japanese?
For working in JAMSTEC, it's no problem at all. There are many foreign scientists here. English alone works very well here. Scientists of course, secretaries, even the front gate security can speak English!
If you are considering working overseas, JAMSTEC gathers international scientists, and have nice research environment, will be a good choice for you!